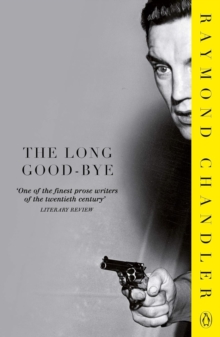 The Long Good-bye
Paperback
Description
The Long Good-bye is a classic novel by Raymond Chandler, the master of hard-boiled crime.Down-and-out drunk Terry Lennox has a problem: his millionaire wife is dead and he needs to get out of LA fast.
So he turns to his only friend in the world: Philip Marlowe, Private Investigator.
He's willing to help a man down on his luck, but later, Lennox commits suicide in Mexico and things start to turn nasty.
Marlowe finds himself drawn into a sordid crowd of adulterers and alcoholics in LA's Idle Valley, where the rich are suffering one big suntanned hangover.
Marlowe is sure Lennox didn't kill his wife, but how many more stiffs will turn up before he gets to the truth?'Anything Chandler writes about grips the mind from the first sentence' Daily Telegraph 'One of the greatest crime writers, who set standards others still try to attain' Sunday Times'Chandler is an original stylist, creator of a character as immortal as Sherlock Holmes' Anthony BurgessBest-known as the creator of the original private eye, Philip Marlowe, Raymond Chandler was born in Chicago in 1888 and died in 1959. Many of his books have been adapted for the screen, and he is widely regarded as one of the very greatest writers of detective fiction.
His books include The Big Sleep, The Little Sister, Farewell, My Lovely, The Long Good-bye, The Lady in the Lake, Playback, Killer in the Rain, The High Window and Trouble is My Business.
Information
Format: Paperback
Pages: 464 pages
Publisher: Penguin Books Ltd
Publication Date: 01/10/2010
Category: Crime & mystery
ISBN: 9780241954362
Free Home Delivery
on all orders
Pick up orders
from local bookshops
Reviews
Showing 1 - 2 of 2 reviews.
Review by alexrichman
16/06/2015
The ultimate noir novel? It's long, it's bleak, it's about power, and love, and lust, and booze, and getting beat up by cops and doing the right thing. The plot's foundations seem a little shaky: Marlowe goes on a crusade to protect a 'friend' he barely knows, but then again that's the kinda straight-up guy he is, right? Superb.
Review by Widsith
16/06/2015
It's everything you want from Chandler – femmes fatales and bent cops and hoodlums with guns and '50s slang, and dialogue that only sounds clichéd because so many people since have tried to copy it.<i>'Alcohol is like love,' he said. 'The first kiss is magic, the second is intimate, the third is routine. After that you just take the girl's clothes off.'</i>Or again:<i>Cops never say goodbye. They're always hoping to see you again in the line-up.</i>I don't know if I agree with those who say this is his masterpiece – maybe I preferred <i>Farewell My Lovely</i>. But it's definitely up there. As always, the plot is impossible to follow and the murder mystery is less important than painting a mood-picture of Los Angeles at a particular time. It probably never existed exactly like this, but reading him makes me nostalgic for it all the same.This one wrapped up very satisfyingly at the end, with a series of encounters and dialogues that felt like the title being played out, and made it seem like the last book of a series (although it isn't, quite): I particularly loved the gruff, manly conversation with Bernie Ohls at the finish. His relationship with Marlowe – the back-and-forth of two men who respect each other but aren't sure if they like each other – reminded me of the dialogue between Bogart and Rains at the end of <i>Casablanca</i>.Chandler got more autobiographical here than he usually does, and there is a hint of introspection behind some of the snappy similes – one character (like Chandler) grew up in England before going off to fight in a world war; and another, even closer to the bone, is a tired, aging genre novelist who (like Chandler) types on yellow paper and drinks too much, and worries that he's been wasting his literary gifts on pulp fiction.If Chandler worried about that himself, he shouldn't have. I don't even really like crime fiction much, but his stuff, as the Sunday supplements like to put it, 'transcends genre'. In other words the sentences sing, and you're reading for a lot more than just plot resolution. This was pure pleasure from start to finish.