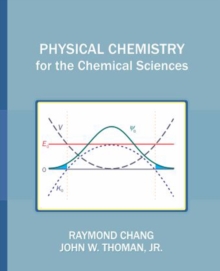 Physical Chemistry for the Chemical Sciences
Paperback / softback
Description
Following in the wake of Chang's two other best-selling physical chemistry textbooks, this new title introduces laser spectroscopist Jay Thoman (Williams College) as co-author.
This new text has been comprehensively reviewed regarding both level and scope.
Targeted to a mainstream physical chemistry course, this text features extensively revised chapters on quantum mechanics and spectroscopy, many new chapter-ending problems, and updated references, while biological topics have been largely relegated to the previous two textbooks.
Other topics added include the law of corresponding states, the Joule-Thomson effect, the meaning of entropy, multiple equilibria and coupled reactions, and chemiluminescence and bioluminescence.
One way to gauge the level of this new text is that students who have used it will be well prepared for their GRE exams in the subject.
Careful pedagogy and clear writing throughout combine to make this an excellent choice for your physical chemistry course.
Support materials are available for this title. For more details please contact booksales@rsc.org"With expanded coverage and more depth, Chang's newest book is now an excellent fit for students on the BS Chemistry track.
It will provide them with the rigorous foundations knowledge they need for advanced studies in any sub-disciplines of chemistry, including biochemistry/biophysical chemistry."-Taina Chao, State University of New York, Purchase"The most student-friendly P Chem text available."-Howard Mayne, University of New Hampshire"I expect this textbook will be high on the list for instructors seeking a thorough, integrated approach to the subject of Physical Chemistry, combined with a clear and conversational writing style." -Alan Van Orden, Colorado State University "The new Chang/Thoman text is very good.
I like its approach and it is very easy to read and well organized.
In my opinion, this text makes a much better approach to Physical Chemistry than the other texts currently sold."-Mark Obrovac, Dalhousie UniversityNOT AVAILABLE IN NORTH AMERICA AND CANADA
Information
Format: Paperback / softback
Pages: 968 pages, No
Publisher: Royal Society of Chemistry
Publication Date: 18/03/2014
Category: Physical chemistry
ISBN: 9781782620877