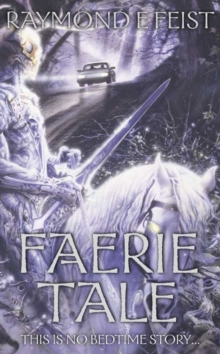 Description
Reissued in spectacular new cover of Feist's chilling dark fantasySuccessful screenwriter Phil Hastings decides to move his family from sunny California to a ramshackle farmhouse in New York State.
The idea is to take some time out, relax and pick up the threads of his career as a novelist.Good plan, bad choice.
The place they choose is surrounded by ancient woodland.
The house they choose is the centrepoint of a centuries-old evil intent on making its presence felt to intruders.
Information
Format: Paperback
Pages: 496 pages
Publisher: HarperCollins Publishers
Publication Date: 15/11/1989
Category: Fantasy
ISBN: 9780586071397
Free Home Delivery
on all orders
Pick up orders
from local bookshops
Reviews
Showing 1 - 5 of 5 reviews.
Review by reading_fox
16/06/2015
One of feist's better works. As everybody knows - when the faerie lost the battle over the world with humans and were expelled into the ether, they seperated into the dark and light courts. They still trvael the earth from place to place staying for six months before moving on at the equinox. When they stay in middle america strange things happen, and the local children start to investigate. The dark king is trying to lure humans to break the treaty made so long ago when the exile happened. Fortunetly the guardians are still nearby, though they don't take account of the individual lives. Can the brother save his twin in time?
Review by penwing
16/06/2015
Thoroughly enjoyed this book, thought it would make an interesting RPG Oneshot (nWoD Innocents/Changeling crossover if you're interested). Wasn't so keen on the ending really.
Review by melydia
16/06/2015
In a nutshell, this is the story of a man who moves to the country and discovers there are supernatural beasties living on his property. In this case, the beasties are faeries straight out of Celtic myth. It felt a bit contrived, but some visuals were reasonably compelling. Parts of it are a bit dated (MRI was in its infancy, for example) and the characters were mostly a touch flat. I did like Gary and Mark quite a bit, but - though it would have been completely unheard-of at the time - they would have worked better as a couple than merely coworkers. All the same, I probably won't go out of my way to read more Feist.
Review by Marlene-NL
16/06/2015
Okay This is what I wrote in 2004. (beware it feels like a letter instead of a review) lol<br/><br/><br/>on Saturday, May 29, 2004<br/><br/> Hi Mine arrived today also! I am very happy.Thanks that you were willing to trade with me. i hope you will enjoy the book by Doris Lessing.<br/><br/>on Thursday, June 17, 2004<br/><br/> Well i am reading this right now.I did not know what to expect , did not want to know, (that's why i did not read the book description)What I hoped for was a horror book and maybe it is, but stories about leprechauns and fairies I am not sure if I will finish this book.I wanted to read this cause my yahoo group picked this one to read for this month but I have so many other books tbr more my ordinary genre(learned a lesson : I only participate in reading books with a mailing group If I own the book or I really want to read it myself. :-)<br/><br/>on Sunday, June 20, 2004<br/><br/> three days ago when I wrote my last journal entry I decided I would quit but after I read somebody giving a tip, try to give each book a 100 pages, I decided to give it another chance., I had only read 86 I am happy that I did cause while reading I really got into the book and I finished it very fast.I did enjoy the book after all, even though it is not my normal genre.it turned out to be a thrilling book in the end.I am happy that I decided to read more. thanks.<br/><br/>Thursday September 2 2010: (The End? ;) )
Review by Lukerik
09/10/2015
Truely one of the worst novels I have ever read. I still get upset whenever I see a copy of a book by this man.