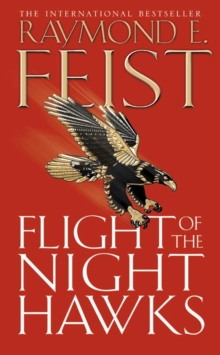 Flight of the Night Hawks
Paperback
Part of the Darkwar series
Description
The first book in the Darkwar series, from world-wide bestselling author of Magician, Raymond E.
Feist.The Conclave of Shadows, the undercover organisation charged with the protection of Midkemia, have problems: the evil magician Leso Varen is still at large and thousands of portals to a parallel dimension inhabited by the cruel and fiendish Dasati, have been discovered in Novindus.Leso Varen, a powerful and malign magician with the power to possess and transport himself from body to body, and his Nighthawk assassins are plotting chaos and annihilation in the royal house of Kesh.
The Nameless One is awakening and needs Varen to help him re-emerge completely and tip the balance of good and evil in the world, plunging Midkemia into darkness and ruin.But when the Conclave attempt to warn the Emperor, it becomes clear that many of the truebloods - nobles related by birth to the Emperor - are already Varen's slaves, both willing and unwitting, and the Conclave are forced into a race against time to save Great Kesh before evil engulfs the land.`Flight of the Night Hawks' begins a brand new series from the master of fantasy, set on a grand scale; revisiting the exotic political-intrigue of Great Kesh (touched upon in the classic Riftwar books), and carrying the reader into a dark underworld of crime and black magic.
Information
Format: Paperback
Pages: 432 pages
Publisher: HarperCollins Publishers
Publication Date: 23/08/2006
Category: Fantasy
ISBN: 9780007133765
Other Formats
EPUB from £5.99
eAudiobook MP3 from £11.59
Free Home Delivery
on all orders
Pick up orders
from local bookshops
Reviews
Showing 1 - 1 of 1 reviews.
Review by reading_fox
16/06/2015
Continuing the stroy of Leso Varen and his atrocities as defeated by Pug and his band of allies - the Conclave of Shadows. Not convincing and rambling in places this is very much setting the scene for the next in the series. A process that has been dragged out a bit too long now. Leso can change bodies - as one dies he can transfer to a new. This was a plot device a couple of books agao and is now starting to wear a bit thin. It causes Pug's team some effort to track him down again. Celeb re-appears as a key characters and this time manages to become involved with another pair of promising young lads. Also a repeated plot point of this series. The descriptive passages from tehyoung lads' viewpoint when they realise that they aren't giong to be pesants' sons anymore and have to learn lords skills are quite good. The rest of the book is average to unbelivable.The Nighthawks ofthe title are Leso's trained and deadly force of super secret killers. Who, in the style of bad movies everywhere, manage not to kill any heros even though said hero was laid most seriously low by a couple of bandits. These extremely dangerous henchmen have great difficulty even with the children! Poor plotting. Eventually Kasper and Talwin resurface in Kesh and try and unravel Leso's schemes there. Nakor tries to determine the roles of the gods in this great ame they are involved in. Although teh light fantasy style is easy reading the poor plotline didn't really help much. there is just about enough of a hook to wonder how it will all be brought to a close, but the preposterous levels of enemies and allies' powers is starting to intervene in any level of belief suspension.