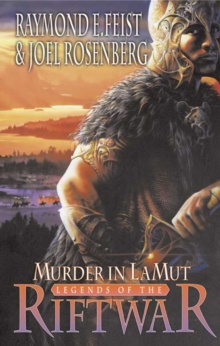 Murder in Lamut
Paperback
Description
The second novel of a major new Feist acquisition, returning to his best-loved series.
Written with Joel Rosenberg. The second Riftwar collaboration, Murder in LaMut, written by masters of fantasy Raymond E.
Feist and Joel Rosenburg. The heavy action was supposedly at Crydee these days which meant that the one place they could be sure the three of them were not going was Crydee.
Come spring, the privateer Melanie was due in Ylith, and its captain could be counted on for a swift conveyance away for sure, and likely not to murder them in their sleep.That would be bad for business.But away where?That wasn't Durine's worry.
Kethol would surely be able to find the three of them somebody who needed men who knew which part of the sword you used to cut with and which part you used to butter your bread, and Pirojil would be able to negotiate a price at least half again what the employer was ready to pay.
All Durine would have to do was kill people. That was fine with him. Durine, Kethol and Pirojil are three mercenaries who have spent twenty years fighting other people's battles: against the Tsurani and the Bugs and the goblins, and now it seems they've run out of Tsurani, Bugs and goblins to kill.
The prospect of a few months of garrison duty offers a welcome respite; but then they are given an assignment that seems, on the surface, like cushy work - to protect a lady and her husband and deliver them safely to the city of Lamut.It should all have been so simple... Raymond E. Feist is the author of the bestselling and critically acclaimed Riftwar Saga, the Serpentwar Saga and the epic Krondor series. Joel Rosenberg is best-known for The Guardian of the Flame sequence.
His other fantasy work includes D'Shai novels and the Keeper of the Hidden Ways series.
Information
Format: Paperback
Pages: 336 pages
Publisher: HarperCollins Publishers
Publication Date: 01/06/2003
Category: Fantasy
ISBN: 9780006483892
Free Home Delivery
on all orders
Pick up orders
from local bookshops
Reviews
Showing 1 - 2 of 2 reviews.
Review by nakmeister
16/06/2015
Durine, Kethol and Pirojil are a mercenary trio, who are holed up in Lamut for the winter. They've been assigned to what they think is a cushy job, protecting a local Baron. Unfortunately, things are never that simple, and they fail to realise just how murky Lamutian politics can get…This book is a very enjoyable read. Part of that is down to the familiar setting of Feist's Kingdom of Isles, part of it is the writing style, which is easy to read and relaxing. The plot takes a while to get going and it's the last quarter of the book where things start to get really interesting, but all along it's an enjoyable read. With many of Feist's recent books, I have disliked the small scale of the storyline, compared to the epic scope of much of his work, but here I think it worked fairly well. The three main characters are interesting enough, and different from Feist's other characters – this is probably due to them being characters 'transplanted' from some of Joel Rosenberg's books. I didn't have a problem with that, and may even read some of Rosenberg's solo works sometime. Well worth reading, especially if you're a fantasy fan, and certainly if you're a Feist fan in particular.Note – there are similarities to Agatha Christie in the latter part of the book, or is it just me?
Review by shanaqui
16/06/2015
I know I enjoyed reading this book, because I love the worlds of Midkemia and Kelewan, but it didn't leave much with me and I hardly remember it.
Also in the Legends of the Riftwar series