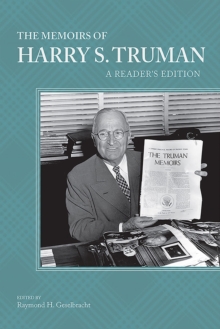 The Memoirs of Harry S. Truman : A Reader's Edition
Hardback
Description
When the first volume of Harry S. Truman's memoirs, Year of Decisions, which covered the first year of Truman's presidency, was published in 1955, some of the book's reviewers, while acknowledging the importance and even grandeur of its content, noted some of its failings-its "faltering literary quality," in one reviewer's words, its sometimes confusing arrangement, and, the most frequently voiced complaint, the incorporation into the text of too many lengthy historical documents and speeches.
There were too many "dreary quotes", as one reviewer put it.
Year of Decisions was an important and distinguished book, most reviewers agreed, but it was hard to read. The purpose of this edited and abridged edition of Truman's memoirs is to find the essentially important story, told in the authentic voice of Harry S.
Truman, that is tangled up with the above mentioned problems and failings in Year of Decisions and Years of Trial and Hope.
To achieve this, Raymond H. Geselbracht cuts the original text by half, down to approximately the length originally called for in Truman's contract with his Publisher.
His edition removes and summarizes most of the historical documents and speeches that too often halted the narrative and disheartened the reader.
There are now chapter Titles and subheadings, and he clarifies the chronological and thematic organizations of the memoirs.
His wish is for a new generation of readers to find this edition of Truman's memoirs readily approachable and enjoyable to read, and feel the thrill of hearing the unique and authentic voice of Harry S.
Truman telling the story of his life, his presidency, and some of the most important years in American history.
Information
Format: Hardback
Pages: 512 pages
Publisher: University of Missouri Press
Publication Date: 30/11/2019
Category: History of the Americas
ISBN: 9780826221957