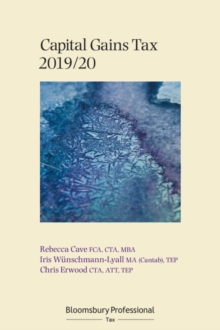 Bloomsbury Professional Capital Gains Tax 2019/20
Paperback / softback
Description
Capital Gains Tax 2019/20 is an invaluable title for those who deal with capital gains tax on a regular basis.
It examines the current legislation and HMRC guidance in a clear, comprehensive style and covers the following: Recent developments in CGTComputation of gains and losses and special rules for particular assetsCGT for partners and partnership assetsCGT in the periods immediately before and after deathCGT payable by trustsCharges for non-domicile or non-resident taxpayers and overseas gainsCorporate gains, SSE and group reliefsLand and property including non-resident CGTMain residence reliefEntrepreneurs' relief Investors' ReliefHold-over relief for giftsRoll-over relief for business assetsRelief on the incorporation of a businessVenture capital reliefs including SEIS, EIS and SITRRelief for losses on loans to traders and on disposal of sharesTransfer of shares to an Employee Ownership TrustCGT planning and anti-avoidance rulesTaking on a practical approach to the subject and concentrating on the most commonly found transactions and reliefs, the commentary in this title includes 147 examples, updated to the current tax year, and is cross-referenced to the tax legislation as well as to the HMRC manuals and to other HMRC guidance.
This accessible reference guide has a user-friendly structure with 'signposts' at the beginning of each chapter to summarise key topics and 'focus points' throughout to highlight important issues.
Numerous worked examples demonstrate how to apply the main principles in practice and all examples are listed in a table for quick navigation.
Information
Format: Paperback / softback
Pages: 640 pages
Publisher: Bloomsbury Publishing PLC
Publication Date: 27/06/2019
Category: Taxation
ISBN: 9781526509901