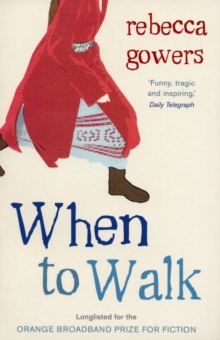 Description
It looks like just another week ahead. Then out of the blue Ramble's husband ends their marriage over lunch and disappears.
With no rent money and her world in shreds, she is forced to reconsider everything she's ever been taught by her screwy relatives, unreliable friends and wayward criminal connections.
Should she hide in life's slipstream, or has the moment come to break free? When to Walk is an astonishing debut, lit up with hope and unexpected laughter.
Information
Format: Paperback
Pages: 240 pages
Publisher: Canongate Books Ltd
Publication Date: 07/02/2008
ISBN: 9781847670434
Free Home Delivery
on all orders
Pick up orders
from local bookshops
Reviews
Showing 1 - 1 of 1 reviews.
Review by duck2ducks
16/06/2015
When to Walk is a fantastic read, but you wouldn't know it from a back-cover blurb or review synopsis: We're told that Ramble's marriage suddenly ends over lunch, her husband calling her an "autistic vampire", how does she go on, blah blah blah. One is forced to (rightly) wonder: Surely this isn't compelling stuff? Is there really anything original left to say on this subject?

What's most surprising is what the blurbs don't say: namely, how extraordinarily FUNNY the book is! Ramble, deaf in one ear and with "a dysfunctional pelvis", has a mind that's both brilliant and bent; her attention to detail is almost panoptical, and her tendency towards digression, reflection, and bewildering interpretation is no less hysterical than it is astounding. Her internal dialogue can make the strangest sidesteps - as when the sudden appearance of someone surprises her, and she promptly recalls the earliest OED citation (c. 1513) of the word "wow".

This is the tenor of the novel's narration, and you'll either love it or hate it. The lunchtime pronouncement is a clear illustration, as it's not what the husband said, so much as her instant rewording: "He didn't put it like this, didn't use either of the words I'm about to use, but I found he was telling me that in the person of his wife, I have degraded into an autistic vampire." She's incredibly intelligent, possibly gifted, hopelessly internal in her workings, and one gets the sense of her being slightly surprised by most everything - if only for a second. At one point her husband complains that she spends too much time inside her own head, and we're annoyed to concede that he might have a point. (Not that this makes him any less of a bastard.)

The novel takes place over a single week - each of the seven chapters comprising a single day - and, given the kind of story it is, doesn't have the greatest amount of plot. This has seemingly frustrated some readers, but I had no quarrel with that fact; Ramble's character and voice are such a singular mixture of ridiculous and affecting, that my only complaint was that it ended at all: I gladly would have read many more weeks' worth of her strange and comical misadventures.

When to Walk is Rebecca Gowers' first novel, and it's an astonishing debut. I'll be anxiously awaiting her second.