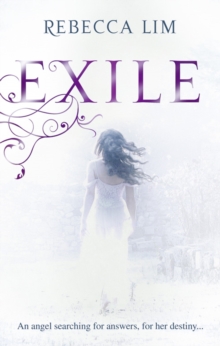 Exile
Paperback
Part of the Mercy series
Description
An electric combination of angels, mystery and romance, EXILE is the breathtaking sequel to MERCY in a major new paranormal romance series.There's something very wrong with me.
When I wake up, I could be anyone...An angel in exile, Mercy is doomed to return repeatedly to Earth, taking on a new human form each time she does.
Now she "wakes" as unhappy teen Lela, a girl caring for a dying mother but never herself.As her shattered memory begins to return, Mercy remembers Ryan, the boy she fell in love with in another life, and Luc, the angel haunting her dreams.
Will Mercy risk Lela's life to be reunited with her heart's true desire?An electric combination of angels, mystery and romance, Exile is the second book in the spellbinding MERCY series.
Information
Format: Paperback
Pages: 304 pages
Publisher: HarperCollins Publishers
Publication Date: 01/06/2011
Category: Fantasy
ISBN: 9780007414901
Other Formats
EPUB from £4.99
Paperback from £8.65
Free Home Delivery
on all orders
Pick up orders
from local bookshops
Reviews
Showing 1 - 3 of 3 reviews.
Review by Tsana
16/06/2015
Exile continues the story of Mercy, an angel who for reasons unknown to her is cursed/sentenced to briefly possess different humans, constantly jumping around and never knowing where she's going to end up next.This time, she lands in Melbourne into the body of Lela a 19 year old girl who works at a coffee shop in the city and whose mother is dying of cancer.She also has a vivid dream in which Luc, her angel love who is always beseeching her to find him, visits her. This time he has a plan for reuniting them.Overall, I felt a bit ambivalent about this book. It wasn't bad, in fact the writing was objectively fairly good. But the story, especially the angelic parts, completely failed to resonate with me. Which is more a comment on me than on the book. Compared with Mercy there were more magical dream-sequences which particularly didn't do it for me. We do learn more about who and why Mercy is, but Luc has always seemed a bit creepy to me and if anything he seems more so after Exile. He's her star-crossed lover and they're being punished for some reason by being kept apart and he spends his time trying to stalk her down. On the bright side, it gives me someone to cheer against. Also the sort-of love interest from Mercy reappears and is a much more likeable prospect.Unsurprisingly, as Mercy learns more, everything seems to get more complicated. If I have one complaint about the story structure it's that it ends too soon for us to really get into to the meat of the mystery. However, it does end in a logical place and it's not an unsatisfying ending. I do want to know more, but the sequels aren't very high on my to buy list. Mostly, it's just a little bit too goddy for my taste (but objectively, really not that religious).One final note: I'm not sure this is terribly YA. The protagonist is on the cusp of the requisite age group but thematically this series hasn't struck me as very YAish. I suspect the shortness of the books contributed to them being marketed as YA. It's not that I think they're inappropriate for young people, I just didn't feel they quite fitted into the usual YA mould (but it sort of makes sense from a marketing perspective since they're short and fantasyish it would be harder to sell them as adult fiction).If you like YA fantasy with angels, then I highly recommend this book. If you like YA that's lighter on the fantasy and more rooted in the real world than, for example, your standard vampire story, this is also a book you might like.3.5 / 5 stars
Review by wyvernfriend
16/06/2015
Mercy now wakes in Australia in the body of teen Lela who is caring for her terminal mother. She works in a coffee shop and fends off the attention of some of the customers, the usual work. She tries to get back in contact with Ryan, the boy she fell in love with during her last life and Luc is still haunting her dreams. Can she find love?This series has me torn, I want to like it and sometimes there are parts where I really do enjoy the story and what's happening, but then I want to scream at the main character about being stupid and not paying enough attention to what's going on around her. She's ridiculously naive and she has no apparent sense of self-preservation. I kinda want to know what's going on but, honestly, I'm not sure if it's worth the effort to continue with this series.
Review by bookloverLucy
16/06/2015
First of all, it goes without saying that since this is the second book in a series, you should probably read the first book (Mercy) before you read this one (although they can stand alone in a way, since she inhabits a different body in each book, and she sort of summarizes what's going on at the start of each).I'm not sure how people manage to give things half stars, but if I could figure out how then I'd give it 3.5/5.I actually really enjoy reading this book, because it's interesting, and difficult to put down. Once I got to a bit past the middle of the first book and this one, I just had to keep reading until the end. A quick but enjoyable read. I liked that it dealt with some dark themes for a YA book, and despite the supernatural themes it still incorporated modern technology into her hunt for information. Mercy isn't always a likeable character, but the story is compelling enough that it doesn't really matter.The only reason I'm leaning more toward 3 stars rather than 4 is because I consider 5 a pretty perfect book, 4 a great book but not mind-blowingly good, and this book just isn't quite as good as other books I'd give 4 stars. It's REALLY interesting, pretty unputdownable in parts, dark enough at times that it separates itself from other fluffy supernatural romance fiction. And I did respect that this one was set in Australia (which I very rarely see - but enjoy, since I live in Australia!) and also does so without even a hint of the usual stereotyping (I assume that's because the author is based in Melbourne, so can write about the area and the people accurately).The ONLY problem I have with these books, and the reason it's 3 stars instead of 4, is because once I reach a certain point in the books, it's VERY obvious to me that this or that person is evil or psychotic, and that something bad is going to happen. And something bad does inevitably happen, because despite being a higher being and even the fact that she has supernatural powers that should help her avoid these things, she remains oblivious to the danger. Completely oblivious. It's the equivalent of horror films where you want to scream at the screen and at the character for being stupid enough to walk right towards the danger. And while that may cause essential tension for the plot, to me it's very annoying when a character - especially a character like Mercy who you'd think would be smart enough to realise these things while humans might not - doesn't see what's completely obvious. This was forgivable in the first book, but she REALLY should have taken heed of the signs in this book.Other than that, it's a great book to curl up with, and I commend the author on managing a unique feel to a very common genre.