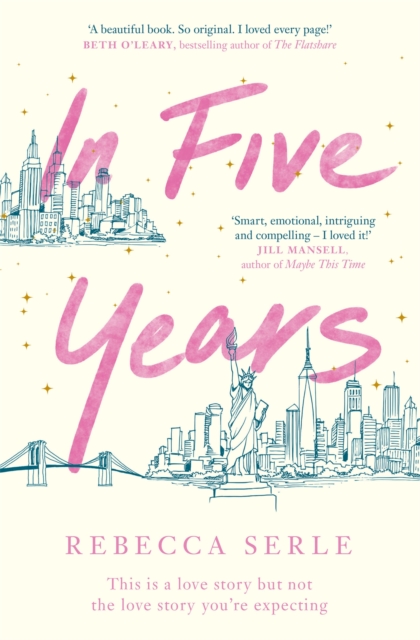 Description
'SMART, EMOTIONAL, INTRIGUING AND COMPELLING - I LOVED IT!' JILL MANSELL'Full of twists and turns, this is a heart-breaking yet uplifting story about love and friendship, and is one of this year's must-reads' Heat magazine ***** Perfect for fans of Me Before You and One Day, this heart-breaking story of love, loss and life will have you questioning everything you thought you knew about destiny... Where do you see yourself in five years? Type-A Manhattan lawyer Dannie Kohan has been in possession of her meticulously crafted answer since she understood the question.
On the day that she nails the most important job interview of her career and gets engaged to the perfect man, she's well on her way to fulfilling her life goals. That night Dannie falls asleep only to wake up in a different apartment with a different ring on her finger, and in the company of a very different man.
The TV is on in the background, and she can just make out the date.
It's the same night - December 15th - but 2025, five years in the future. It was just a dream, she tells herself when she wakes, but it felt so real...
Determined to ignore the odd experience, she files it away in the back of her mind. That is, until four and a half years later, when Dannie turns down a street and there, standing on the corner, is the man from her dream... In Five Years is a love story, brimming with joy and heartbreak.
But it is definitely not the love story you're expecting. 'What a clever, beautiful, special book. The writing is stunning, the concept is so original - it just has everything going for it.
I loved every page!' BETH O'LEARY, author of Sunday Times bestseller The Flatshare'I adored In Five Years, it's so poignant and tender.
It broke my heart' JOSIE SILVER, author of One Day in December'I loved In Five Years.
A beautiful, intelligent story about friendships and love' CLARE MACKINTOSH, Sunday Times bestselling author of After the End'A rare love story with an unexpected ending' Bella magazine 'I read it in one late night.
Very, very clever. And lovely. The end is EXACTLY what it should be' ANSTEY HARRIS, author of Richard & Judy Book Club pick The Truths and Triumphs of Grace Atherton'In Five Years is as clever as it is moving, the rare read-in-one-sitting novel you won't forget' CHLOE BENJAMIN, author of The Immortalists'Clever, heartbreaking and beautifully written.
The perfect story' HOLLY MILLER, author of The Sight of You'A wonderfully unique read.
Clever, compelling and always surprising' HEIDI SWAIN, Sunday Times bestselling author of The Christmas Wish List'Smart, clever and achingly beautiful.
Not many love stories surprise me, but this one did.
I really loved it' DANI ATKINS, bestselling author of Fractured and A Million Dreams'An exquisite portrayal of friendship and love at its purest.
Stunning' EMMA COOPER, author of The Songs of Us'Deeply moving and emotional - I absolutely adored it' SUSAN ELLIOT WRIGHT, author of The Flight of Cornelia Blackwood'What a wonderful book.
So moving and such an amazing, satisfying ending. Excellently done' TRACY REES, author of The House at Silvermoor
Information
Format:Hardback
Pages:272 pages
Publisher:Quercus Publishing
Publication Date:03/03/2020
Category:
ISBN:9781529405804
Other Formats
Paperback / softback from £7.89
EPUB from £5.49
Information
Format:Hardback
Pages:272 pages
Publisher:Quercus Publishing
Publication Date:03/03/2020
Category:
ISBN:9781529405804