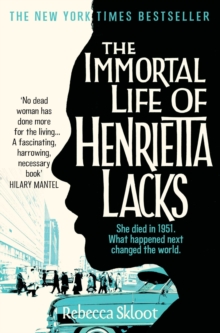 The Immortal Life of Henrietta Lacks
Paperback
Description
Her name was Henrietta Lacks, but scientists know her as HeLa.
Born a poor black tobacco farmer, her cancer cells - taken without her knowledge - became a multimillion-dollar industry and one of the most important tools in medicine.
Yet Henrietta's family did not learn of her 'immortality' until more than twenty years after her death, with devastating consequences . . . Rebecca Skloot's fascinating account is the story of the life, and afterlife, of one woman who changed the medical world forever.
Balancing the beauty and drama of scientific discovery with dark questions about who owns the stuff our bodies are made of, The Immortal Life of Henrietta Lacks is an extraordinary journey in search of the soul and story of a real woman, whose cells live on today in all four corners of the world.
Information
Format: Paperback
Pages: 448 pages
Publisher: Pan Macmillan
Publication Date: 01/01/2011
ISBN: 9780330533447
Other Formats
EPUB from £7.19
Paperback from £7.65
Free Home Delivery
on all orders
Pick up orders
from local bookshops
Reviews
Showing 1 - 5 of 13 reviews.
Previous | Next
Review by jcbrunner
16/06/2015
Rebecca Skloot has devoted much time to turn every possible stone to unearth the story of one of the nameless, the ones history ignores and forgets, the unwashed, the poor, the oppressed. Henrietta Lacks was a poor black woman whose brutally harsh life of abuse, incest, poverty, crime and betrayal was cut short by a vicious cancer. The world would not remember her if not for the fact that her vicious cancer cells were so tough that they survived in the laboratory outside a human body and became the workhorse of genetic research. While Skloot does tell about some of the research HeLa cells contributed to, her focus is the biography and pathology of the Lacks family. This biography is both a tribute and an exploitation of a poor woman and her offspring. Skloot exposes the Lacks family, warts and all, in a way that more sophisticated families would have prevented legally. It is a shocking case study of a toxic family environment, driven by both internal and governmental neglect, the aftermath of slavery carried over compoundedly. This biography is a cry for a belated Marshall plan on American soil (financed by a tax on pharma profits, derived in some parts based on HeLa cells). Otherwise, the Lackses will never be able to escape from the vicious cycle of poverty, lack of education and crime. Highly recommended.
Review by nicx27
16/06/2015
I wasn't sure whether I would like this book or not. I'm not really into science and I was worried it might be a bit heavy-going. However, I had read reviews which said that it wasn't and so I gave it a go. What I got was a fascinating story of a young black American woman who, without even knowing it, has changed the face of medicine and medical research forever.The book mostly covers the story of Henrietta Lacks from her early years to her death in 1951, and then her children's lives almost up to the present day. Interspersed with these chapters are chapters about the cells' development and what they were used for.This is certainly a book which makes you think. It seems as though every one of us has benefited in some way from the work that has been done with the cells. This is a very interesting read and one which I would recommend - you don't have to have a lot of scientific knowledge to read it.
Review by mumfie
16/06/2015
I'm almost ashamed to say I knew nothing about this until I read the book, but then that's the point of writing it. I just hope they don't turn it into a torrid Hollywood style docu-drama film and ruin a truth that is outlandish without the need for embellishment.There is a huge contrast between Henrietta Lacks' life and that of her family, with their poverty, lack of education and medical woes and the fact that her stolen cells have had a successful 'career' with contributions to so many aspects of biological development and have helped generate millions in revenue.This is a compassionately written tale showing us Henrietta's family's bewildered discovery of what happened to her cells as well as the wider and on-going debate about the ethical use of people's tissues and the financial benefits that can evolve as well as the legal framework that has been put in place since.
Review by GrumpyBob
16/06/2015
I read this in the Kindle edition, and was fired up by reading numerous enthusiastic reviews around the blogosphere. I was rather disappointed. While the description of Lacks' illness and the derivation and use of cells derived from her biopsy were good, the majority of the book revolves around the author's developing relationship with Lacks' daughter and other members of the family. Though the book is much described as revealing high-handed and devious actions by researchers and the doctors that treated Lacks, I did not get the sense that anything out of the ordinary was perpetrated. Indeed, the lack of recognition of Henrietta Lacks as the person from who's tumour the HeLa cell line was derived is pretty much due to Johns Hopkins trying to maintain patient confidentiality, rather than trying to airbrush her from history. The author does touch upon interesting issues to do with ownership of biological samples taken from patients (and the emergence of proportionate guidance and regulations concerning the ethics of human participation and experimentation), but doesn't seem to me to probe deeply into the various distinctive cases which collectively illustrate that this isn't a simple issue. But I very much enjoyed the appendix that covers this aspect of the story.Overall, I enjoyed the parts of the book that dealt with the story of Henrietta Lacks and the HeLa cells, but felt the author was trying too hard to make a distinction from earlier accounts by focussing on the wider Lacks family (and indeed her determined attempts to forge a relationship with Henrietta's daughter). These sections are really an indictment of American racial politics of the 1950s and beyond.
Review by Joules63
16/06/2015
Fascinating book, loved the bilogical side which was well written and could be be understood by readers with only a limited understanding of cell biology. Found the background of the book interesting ie the social history of blacks in america since the second world war and the american health care system. Also because I had probably benefited from these cells in my education and never knew anything about them.
Also by Rebecca Skloot