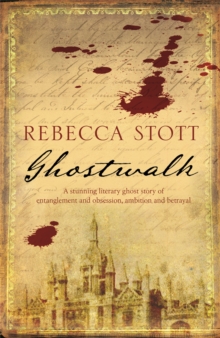 Description
A stunning literary ghost-story of entanglement and obsession; ambition and betrayal - set in present-day Cambridge, but entangled with the 17th centuryThe son of a reclusive historian finds his mother's drowned body in the tributary of the River Cam that runs through her garden.
She is clutching a glass prism. Elizabeth Vogelsang's magnum opus, a book on Isaac Newton's alchemy, is incomplete.
Lydia Brooke, a writer friend of the dead historian, returns to Cambridge to the funeral.
It is five years since she has seen Elizabeth's son, Cameron Brown, with whom she has had an intermittent love affair that began years earlier.
Cambridge, she discovers, is in the midst of an upsurge of attacks by animal rights extremists.
Cameron, who, as a neuroscientist uses animal experimentation, has been targeted.
Cameron asks Lydia to act as a paid ghostwriter in the completion of his mother's book, Alchemist.
Lydia agrees to the proposal and moves into Elizabeth's strange house, a triangular shaped studio on the banks of the Cam.
Soon Lydia finds herself entangled, not only with Cameron, but also with a four-hundred year-old murder mystery, a network of 17th century alchemists and a ghostly figure intent on disrupting her work.
Information
Format: Paperback
Pages: 352 pages
Publisher: Orion Publishing Co
Publication Date: 07/02/2008
ISBN: 9780753823576
Free Home Delivery
on all orders
Pick up orders
from local bookshops
Reviews
Showing 1 - 2 of 2 reviews.
Review by erikschreppel
16/06/2015
Rebecca Stott's Ghostwalk was a frustrating novel. Her writing is very good, often compelling. But she didn't seem to be able to decide what type of story she wanted to tell. Is it a love story, betrayal, ghost story, secret government society ruling the world story, you can't go home again story, etc… Instead of choosing one or two of these, she decides to just go with all of them. Stott is a very talented writer; her various plots are certainly well written. But because she can't seem to make up her mind which one is the main theme, she jumps from one to the other. It becomes quite frustrating because right when one plot starts to get interesting, it stops and we are off to another one. Thus we pinball from one plot to another all the way to the end. And when we get to the end, the plots have become so muddled that the ending tries to wrap them all up in just a few pages. Ms Stott is a writer I would certainly read again, but I would hope in the future a better editor would keep her a bit more focused.
Review by victorianrose869
16/06/2015
9-26-2008When Lydia Brook learns of the sudden mysterious drowning of an old mentor, Cambridge scholar Elizabeth Vogelsang, she finds herself pulled into a dark and complicated web spanning a timeframe as wide and as far back the 16th century, and involving the life and career of none other than Sir Isaac Newton. Elizabeth's son Cameron, with whom Lydia once had a doomed relationship, asks her to temporarily move into Elizabeth's cottage in Cambridge, study her papers and complete a book Elizabeth had been writing about something significant she had apparently discovered about Newton. Lydia doesn't really want to be near Cameron and had left the area several years before specifically to end their relationship, but she has finished her most recent novel and is at loose ends at the moment, and more importantly, she feels she owes it to Elizabeth, who had been an important figure in her life. What Lydia soon realizes is that there may be quite a bit more to Elizabeth's death than anyone imagined, and that it was no accidental drowning that took the scholar's life. In reading through the stash of papers and research Elizabeth left behind, Lydia stumbles onto a dangerous truth: that there are centuries-old secrets and deceptions involving Newton's career and his time at Cambridge that several interested parties wish to remain undiscovered, and yet other parties – not all still living – just as eagerly wish to see full light. Rebecca Stott is a renowned British historian taking her first stab at fiction, and while the mystery itself is compelling and Stott's language and prose is breathtaking, the whole thing ends up a bit muddled. At the end of the story there is no real conclusion, and I was more confused than when I started. The author's detailed knowledge of 17th century history, and in particular of Newton, alchemy, and the excitement which filled that dawning scientific era, was engaging enough to keep me going, as well as her talent for clever foreshadowing, but as far as I could tell the question at the heart of the mystery is never really answered. Another big problem for me in reading this is a personal one only and not necessarily a slight on Stott's writing, but it did severely hamper my enjoyment of it. I did NOT like Lydia, the main character. The reason is perhaps a silly one - because she's having an affair with Cameron, who is married (not a spoiler; it's right at the beginning). It's both a moral thing and a respect issue. I have a hard time holding even a marginally good opinion of any woman who would sleep with another woman's husband, and stoop to being some guy's sloppy seconds when she could obviously do better. It made Lydia seem both nastily selfish and annoyingly pathetic, and while I want a few flaws in my protagonists for realism's sake, I want those flaws to be things with which I can empathize. Stott's use of language is so lovely, however, that even though this debut is a little disappointing, I'd definitely give her another go and would like to see more from her. Definitely great potential and talent here.