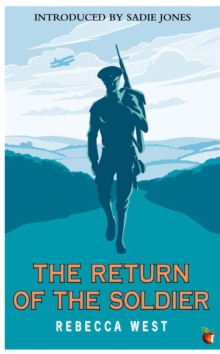 The Return of the Soldier
Paperback
Description
The soldier returns from the front to the three women who love him.
His wife, Kitty, with her cold, moonlight beauty, and his devoted cousin Jenny wait in their exquisite home on the crest of the Harrow-weald.
Margaret Allington, his first and long-forgotten love, is nearby in the dreary suburb of Wealdstone.
But the soldier is shell-shocked and can only remember the Margaret he loved fifteen years before, when he was a young man and she an inn-keeper's daughter.
His cousin he remembers only as a childhood playmate; his wife he remembers not at all.
The women have a choice - to leave him where he wishes to be, or to 'cure' him.
It is Margaret who reveals a love so great that she can make the final sacrifice.
Information
Format: Paperback
Pages: 160 pages
Publisher: Little, Brown Book Group
Publication Date: 02/12/2010
Category: Classic fiction (pre c 1945)
ISBN: 9781844086986
Other Formats
Paperback from £10.05
Hardback from £18.00
Paperback / softback from £6.55
eAudiobook MP3 from £10.04
Free Home Delivery
on all orders
Pick up orders
from local bookshops
Reviews
Showing 1 - 1 of 1 reviews.
Review by Widsith
27/08/2015
I'll tell you I think the Second World War was much more comfortable because in the First World War the position of women was so terrible, because there you were, not in danger. Men were going out and getting killed for you and you'd much prefer they weren't. […] There was a genuine humanitarian feeling of guilt about that in the first war. It was very curious, you see. There I sat on my balcony in Leigh-on-Sea and heard guns going in France. It was a most peculiar war. It was really better, in the Second World War, when the people at home got bombed. I found it a relief. You were taking your chance and you might be killed and you weren't in that pampered sort of unnatural state.
—Rebecca West (in a 1981 interview with the Paris Review)
I kept thinking of this quote when I was reading
The Return of the Soldier
, because I feel like it's a novel that comes out of that mixture of anger and guilt that Rebecca West is talking about – anger at the complacency of civilians, and guilt at the idea that you are one of them. This is at least one way to explain the intense unlikeability of the central characters.A slim parable set during the First World War, the book centres on two women in exactly that "pampered, unnatural state" that West complained about – passing their time in luxurious indolence at their country seat while they wait for the man of the house to return from the front. Against this background, West orchestrates a simple but diverting ethical dilemma: when Captain Chris Baldry does come back, he's shell-shocked and suffering from acute amnesia. He can't remember the last fifteen years of his life, he has no idea who his wife is, and he's demanding to see the woman he was in love with fifteen years ago.It should be the set-up for a melodrama, but West instead uses it – rather unexpectedly – to make a quick, vicious exploration of class relations and the nature of authenticity. Mrs Grey – our soldier's old flame, long since married to someone else – is a working-class lady, and our upper-class narrator finds her uncongenial to a degree that leaves a modern reader breathless. Mrs Grey is described as being 'repulsively furred with neglect and poverty', her face 'sour with thrift', 'a cancerous blot on the fair world' – 'not so much a person as an implication of dreary poverty, like an open door in a mean house that lets out the smell of cooking cabbage and the screams of children'.What this class horror boils down to is an instinctive feeling that Mrs Grey, and those like her, are somehow not quite human – not fully real. Like her tortoise-shell umbrella, she is 'unveracious' (a word that crops up twice). And this unpleasant impulse is played out against the struggle over what to do with Chris, whom shell-shock has now delivered into his own unveracious world – where, to his wife's consternation, he's perfectly happy.Happiness may be important, but the argument made by this book is that truth is more important. It is 'a draught that we must drink or not be fully human'. By the end of the novel the narrator has come to see that it's Chris's elegant wife, not his working-class ex, who is 'the falsest thing on earth', and she draws a sobering conclusion about her own cherished existence:
The whole truth about us lies in our material seeming.
This is what makes the war so effective as a backdrop: an unignorable reality that threatens to make all these interpersonal dramas seem false ('pampered', 'unnatural') in comparison.This is the sort of book that makes me really appreciate the discipline of reviewing, because it's only as I've tried try to get my thoughts down in words that I realise quite how much is going on here, considering the whole thing can be read in a couple of hours. It would make an excellent companion read to JL Carr's
A Month in the Country
, another English novel exploring the effects of shell-shock. This was actually Rebecca West's first novel, written when she was just 24 (she was 89 when she gave the interview at the top of this review, and as sharp as ever), and there is perhaps a certain immaturity to the set-up. But you still feel that you're communing with a uniquely incisive mind, and with so many ideas fizzing around here, it represents extraordinary bang for your buck for 140 pages.
Also in the Virago Modern Classics series | View all