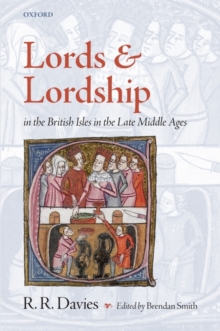 Lords and Lordship in the British Isles in the Late Middle Ages
Hardback
Description
It is well known that political, economic, and social power in the British Isles in the Middle Ages lay in the hands of a small group of domini-lords.
In his final book, the late Sir Rees Davies explores the personalities of these magnates, the nature of their lordship, and the ways in which it was expressed in a diverse and divided region in the period 1272-1422. Although their right to rule was rarely questioned, the lords flaunted their identity and superiority through the promotion of heraldic lore, the use of elevated forms of address, and by the extravagant display of their wealth and power. Their domestic routine, furnishings, dress, diet, artistic preferences, and pastimes all spoke of a lifestyle of privilege and authority.
Warfare was a constant element in their lives, affording access to riches and reputation, but also carrying the danger ofcapture, ruin and even death, while their enthusiasm for crusades and tournaments testified to their energy and bellicose inclinations. Above all, underpinning the lords' control of land was their control of men-a complex system of dependence and reward that Davies restores to central significance by studying the British Isles as a whole.
The exercise and experience of lordship was far more varied than the English model alone would suggest.
Information
Format: Hardback
Pages: 268 pages
Publisher: Oxford University Press
Publication Date: 03/07/2009
Category: British & Irish history
ISBN: 9780199542918
Free Home Delivery
on all orders
Pick up orders
from local bookshops