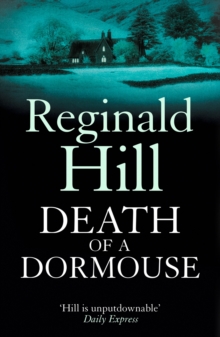 Death of a Dormouse
Paperback
Description
`So far out in front that he need not bother looking over his shoulder' Sunday TelegraphThe balding policeman on Trudi Adamson's doorstep brings the worst news possible: her husband Trent has been burned to death in a freak car accident.Suddenly a widow after years of marriage, Trudi soon discovers there's a lot she didn't know about her late husband.
Why did he resign from his job without telling her? And where is all his money?As shock piles upon shock, Trudi is forced to re-examine her belief in Trent, and ultimately in herself.
Compelled to leave the cosy nest of her old life, she is out in the open and fighting for her survival.
Information
Format: Paperback
Pages: 368 pages
Publisher: HarperCollins Publishers
Publication Date: 29/04/2010
Category: Crime & mystery
ISBN: 9780007334773
Free Home Delivery
on all orders
Pick up orders
from local bookshops
Reviews
Showing 1 - 1 of 1 reviews.
Review by brokenangelkisses
16/06/2015
Reginald Hill (1936-2012) was a well-established crime fiction writer who is best known for his series of books starring detectives Dalziel and Pascoe. This book was originally published in 1987 under the name Patrick Ruell, one of several pseudonyms he used – presumably because he felt that it was different in style to his other offerings. The edition I read was re-published in 2010 under the writer's real (more well-known) name with an almost gothic front cover that promises more of a mystery than a crime thriller. This was a book group choice, rather than something I spotted and wanted to read. The title did not intrigue me but the premise did.The premiseTrudi Adamson is stunned when a policeman arrives on her doorstep to inform her that her husband has died in a car accident on a road where he had no reason to be. As Trudi tries to adjust to widowhood, the shocks keep piling up. Why had Trent quit his job without telling her? Where has all his money gone? And, more chillingly, is he really dead?Forced to survive without the protection of her husband, Trudi awakes from a stupor that has lasted many years and begins to find her own way in the world.My thoughtsI found the initial premise intriguing, although I did think that the plot was going to be very predictable: man fakes death; 'widow' investigates; man threatens 'widow'; 'widow' kills supposedly dead husband. There is a very dramatic prologue which seemed to reinforce this idea, but the plot did turn out to be much more complicated, which I liked. Although there is a lot that happens, it is very easy to follow the action and I did not find that I got confused or had to reread previous sections at any point. I found it helpful that the characters are all clearly delineated and have their own traits, making them easy to keep track of.Due to her situation, Trudi is a sympathetic character, although some readers might find her a little frustrating as she is so meek initially. In fact, the death referred to in the title is not her husband's, but her own. As the book develops she changes completely from a timid 'dormouse' who hates to leave the house into a strong, independent woman who is happy to travel abroad on her own. I found the change in her character happened a little too quickly to be convincing, which was a shame as it was such a central feature of the book. However, I suppose it is difficult to say how anyone would react to the circumstances Trudi faces and danger can make people react in unexpected ways. Therefore, although I thought her character change a little sudden, it does help to make a much more interesting story and does not feel ridiculous.The prologue is extremely dramatic and successfully gripped me as I began reading, although it seemed more like a scene from a horror movie than from a crime novel. It also effectively introduces Trudi's character by focusing on her paranoia and describing her as a trapped animal. I thought that the prologue worked well as an introduction to whet the reader's appetite, especially as the next section of narration picks up a completely different thread, so the reader is kept waiting for the scene described at the start.The story is organised into ten parts, each of which is prefaced by a quotation from Robert Burns' poem 'To a Mouse'. Personally, I felt the quotations were unnecessary and it felt like Hill was pushing his theme a little too heavy-handedly. Of course, readers who feel likewise can quickly learn to skim these or ignore them altogether. Each part is further organised into a few chapters, so there are plenty of 'resting points' along the way. Chapters typically end on the closing of a particular scene rather than on an especially dramatic moment, but each of the parts ends on a real 'da-da-DUM!!' moment. I liked this organisation as it meant that the story felt well-paced (unlike a teen thriller or James Patterson novella where there is a screaming cliff hanger waiting to pounce at the end of every chapter) while retaining sufficient suspense.Although there is not a separate epilogue, everything is wrapped up in the final part. I thought the ending suited the book very well: it is dramatic without being ridiculous, there are a couple of final twists and there is a suitable endpoint for Trudi's newly developed, tougher character. I like endings which work with what has gone before, and this did. Thinking back over the book, I could only think of one minor event which did not seem to be adequately explained, but this was a very minor incident which could have been easily explained away in one or two different ways and did not really affect the overall plot. I also like endings that wrap everything up, preferably without pages and pages of explanations. This ending was quick-paced and left just enough open for the future for readers who might prefer more open endings.I feel that this was more of a mystery than a crime story, even though the focus was on the crime throughout. I think this because Trudi and her friend Jan act like teenage sleuths as they try to work out what is going on and the focus is on them throughout rather than on the police officers. In fact, other than their manipulation of Trudi in some discussions, there is very little police 'work' to be seen. This means that the story is not suited to fans of police procedurals.ConclusionsI found this book easy to read and, at 363 pages, a suitable length for a mystery / crime story. I found the characters were convincing and well-differentiated. I felt the plot developments were often surprising but remained the right side of plausible, and the same was true of the ending. I quite liked the way the main character developed as the story continued (although what her friend Jan had ever seen in her before remains a mystery). I'm not sure that I would bother to seek out another book by Hill as I found this mildly interesting rather than gripping or compelling, but it is worth the £7.99 RRP as it is a satisfying read. Readers who would rather pay less will be able to find it cheaper in the usual places and there's bound to be a tatty copy knocking around your local library. My copy is a library copy and has clearly survived multiple readings (at least 26 according to the sign out slip) without any damage to its binding although the spine is, understandably, rather creased. This suggests that a purchased copy would last very well. This edition is FSC certified, which is a plus for those who are interested in their environment.