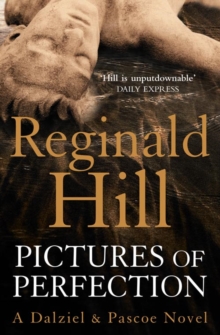 Pictures of Perfection
Paperback
Description
For suspense, ingenuity and sheer comic effrontery this takes the absolute, appetizing biscuit' Sunday TimesHigh in the Mid-Yorkshire Dales stands the traditional village of Enscombe, seemingly untouched by the modern world.
But contemporary life is about to intrude when the disappearance of a policeman brings Detective Superintendent Andy Dalziel and DCI Peter Pascoe to its doors.As the detectives dig beneath the veneer of idyllic village life a new pattern emerges: of family feuds, ancient injuries, cheating and lies. And finally, as the community gathers for the traditional Squire's Reckoning, it looks as if the simmering tensions will erupt in a bloody climax...
Information
Format: Paperback
Pages: 448 pages
Publisher: HarperCollins Publishers
Publication Date: 01/06/2009
Category: Crime & mystery
ISBN: 9780007313143
Free Home Delivery
on all orders
Pick up orders
from local bookshops
Reviews
Showing 1 - 1 of 1 reviews.
Review by Vivl
27/08/2015
Note: Review suitable for those who have not yet read the novel (spoilers masked.)Grim things are afoot in Enscombe. We enter the scene in the midst of the finale, a blood-bath of phenomenal proportions, and then scoot back in time a few days to follow the winding way through a highly unusual Yorkshire village to that most dramatic of events, and beyond. You can't spit without hitting an eccentric and potentially sinister character, and the plot twists are enough to send one truly round the bend, but in such an entertaining way. Reginald Hill's writing is characteristically intelligent, perceptive and, somehow at the same time, enormously amusing.Dalziel &amp; Pascoe (and Wieldy!) come over somewhat <i>Cold Comfort Farm</i> and quite a bit Wodehouse in this most unusual mystery novel. <spoiler class="">(Unusual in that nobody dies and, in the end, nobody is charged with a crime of any sort!)</spoiler> Particularly Wodehousian is the beautiful dovetailing of extraneous plot-lines at the end, with a country house garden providing the backdrop for myriad pleasantly odd characters to chime in with their opportune contributions... <spoiler class="">leading to the nasty pasties getting their just deserts and the good guys strolling, "happily ever after", into the sunset.</spoiler> A little more Edgar Wield-centric than your average D&amp;P offering, this progresses his personal story very nicely indeed, leaving those of "The Lad" and "The Fat Man" firmly side-lined, and that's not a bad thing. I did feel, however, that there was a lull in proceedings, a bit of a flattish patch, around mid-action, when Wieldy &amp; Pascoe were wandering around having strange encounters and longing for a bit of grub, but it picked up with a vengeance when Dalziel poked his whopping great snout back in the trough, in more ways than one.Favourite characters are the Lord Emsworth-esque Squire Guillemard of Enscombe (End is come?) Hall and his ever-present "second slip" and, of course, Dalziel, between whom the best one-liners are shared, but each and every character is beautifully delineated and charming in their own way, even the unpleasant ones!Some choice quotations, most of which emphasise the Wodehouse leanings:<i>"Wield barked the sound which friends recognized as his way of expressing amusement though others often took it as a sign that the interrupted lycanthropic process suggested by his face was about to be resumed."</i><i>"Pascoe declined heavily on to the Chesterfield and wished he hadn't. The leather upholstery seemed to have been moulded by generations of men with more than the usual number of buttocks into something like a relief map of Cumberland." </i><i>"The Squire, though giving the general impression of being shorter of marbles than the Parthenon, had no difficulty in taking this in."</i><i>"Pascoe closed his eyes and wondered how in a world full of politicians, prelates, insurance salesmen, alternative comedians, and Dalziel, evolution had failed to come up with a closeable ear."</i><i>" 'You chaps probably go on courses which tell you how to deal with fellows flaunting their tackle, but I've led a sheltered life.' " </i>
Also in the Dalziel & Pascoe series | View all