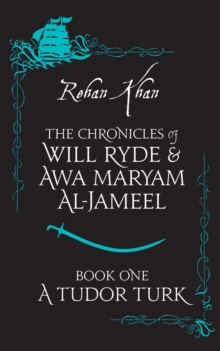 A TUDOR TURK
Paperback / softback
Description
A small undercover unit of hand-picked, trusted warriors is assembled to track down the thieves who have stolen the Staff held by Moses as he parted the Red Sea.
They are the `Ruzgar' - the `Wind' - and like the wind, they travel silently and unseen.
Awa, the studious daughter of a noble family from the Songhai Empire in West Africa, was kidnapped and enslaved by Moroccans after the disastrous Battle of Tondibi.
Awa is a whirling and deadly force when she has a scimitar in her hand. Will, who was snatched from his home in London at the age of 5, is now 16 and a galley slave on board a Moroccan warship.
Joining the Ruzgar turns him into a man. He and Awa become fast friends. The other comrades are Turkish, Greek and Albanian, all led by the charismatic Bosnian Mehmed Konjic, a wise counsellor and natural hero. The Ruzgar's pursuit of a network of rogues takes them across continents and into many perilous situations.
The action is fast and furious, with dire situations requiring a Houdini to escape from . . . set against thrilling backdrops including deserts, oceans, dungeons, the roofs of the Grand Bazaar of Istanbul, the canals of Venice and the court of Queen Elizabeth I at Nonsuch Palace in Surrey. The task to reclaim the Staff is a mission that is (almost) impossible . . .
Information
Format: Paperback / softback
Pages: 304 pages, 1
Publisher: HopeRoad Publishing Ltd
Publication Date: 21/02/2019
Category: Adventure
ISBN: 9781908446978
Free Home Delivery
on all orders
Pick up orders
from local bookshops