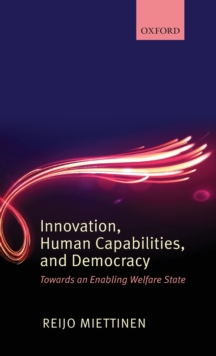 Innovation, Human Capabilities, and Democracy : Towards an Enabling Welfare State
Hardback
Description
All governments strive to develop and implement policies that contribute to innovation.
Both in academic research and policy circles, the concept of National Innovation Systems has represented a significant approach to industrial policy, research and development, and innovation.
This book will review the development and implementation of this approach, and its strengths and weakness by considering the experience of Finland, widely regarded as a model of theinformation society, high-quality equal education, and systemic innovation policy amongst the Nordic welfare states, which themselves have increasingly topped the lists in national competitiveness.
The first part of the book analyzes the foundations, emergence, and development of the National Innovation System approach and its adoption in Finnish science and technology policy throughout the 1990s and 2000s.
In the second part of the book an alternative viewpoint to innovation and welfare policy is outlined, based on the idea of capability cultivating institutions as a key foundation, both for national welfare and competitiveness.
The development of the Finnish comprehensive school and itsspecial education system is studied in order to clarify the nature of institutional change and learning, and the conditions of governing and developing the enabling services.
The concept of an enabling welfare state is developed to answer the challenges of the Nordic model of welfare in aglobalizing knowledge-driven economy.