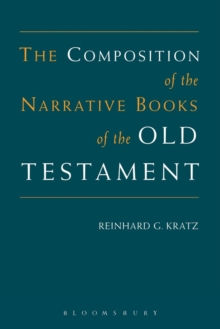 The Composition of the Narrative Books of the Old Testament
Paperback / softback
Description
This is an introduction to the narrative books of the Old Testament (Genesis to Nehemiah), explaining their sources and the nature of their composition.
Setting aside speculative elements of recent studies to establish an entirely scholarly, factual basis for students in the field, this text is clear and readable - and no knowledge of Hebrew is presupposed.
Reinhard Kratz explains the sources of the books and the nature of their composition.
He seeks to do this as far as possible without presupposing any hypotheses and on the basis of a few undisputed basic assumptions: a distinction between Priestly and non-Priestly text in the Pentateuch, the special position of Deuteronomy, a Deuteronomistic revision of Joshua - 2 Kings, and the literary use of the books of Samuel and Kings by Chronicles.
Any further distinctions are based on observations of the text which are well-established and not on literary or redaction-critical distinctions.
Kratz argues that what is important is how the text is read.
Free Home Delivery
on all orders
Pick up orders
from local bookshops