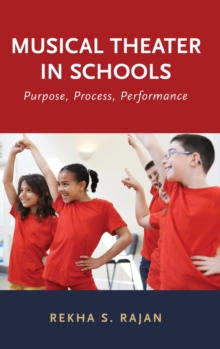 Musical Theater in Schools : Purpose, Process, Performance
Hardback
Description
Musical Theater in Schools: Purpose, Process, and Performance is a comprehensive resource for general classroom teachers, music and drama educators.
The book is the first of its kind to provide strategies for including musical theater across the K-12 curriculum, inviting teachers and arts specialists to utilize musical theater as an interdisciplinary art form within their own classrooms, or as collaborative projects throughout the school community.
Typicallyrelegated to after-school activities, musical theater can have a strong place both as an avenue for performance, creativity, and self-expression, or as a pathway for student learning about academic subjects. Drawing upon musical theater terminology, the book is organized into three distinct acts. The first section gives an overview of how this popular art form developed and how its stories reflect our culture and community, with descriptions of musical theater as a profession for adults, and for children.
This section also discusses musical theater's compromised position within the arts, often relegated to theater departments even though repertoire and songs are available to music teachers, andargues for musicals as a form of interdisciplinary education.
The second section outlines ways of integrating musical theater into the curriculum with considerations for the National Core Arts Standards.
The third section provides suggestions for auditions, casting, rehearsing, and presenting acomplete production, with a specific focus on student-centered performances. ased on the author's own experiences as a professional musical theater performer, coupled with teaching and research in classroom settings, the book reasons that you do not have to be a Broadway star to teach or perform musical theater.
This unique and innovative book supports educators through the process of bringing musical theater into the biggest and most important performance space - the classroom stage.
Information
Format: Hardback
Pages: 176 pages, 16 tables
Publisher: Oxford University Press Inc
Publication Date: 15/02/2019
Category: Music
ISBN: 9780190603205