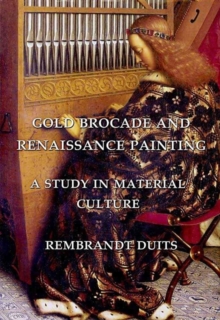 Gold Brocade and Renaissance Painting : A Study in Material Culture
Hardback
Description
Silk fabrics woven with gold thread, predominantly produced in Italy, were depicted frequently in Renaissance painting, both in costumes and as backdrops for important figures.
These painted textiles carried an economic and social significance that a contemporary audience would have recognised as part of the message conveyed by the picture. Gold brocade and Renaissance painting focuses on examples from Italy and the southern Netherlands , dating from the fourteenth to the early seventeenth centuries. Setting aside traditional notions of the hierarchy of the major and minor arts, the book treats gold brocade and painting equally as exponents of the special segment of Renaissance material culture that was art.
The fabrics rendered in painting reflected the tradition of actual weaving, but only to an extent, as many gold brocades were painted from imagination.
Gold brocades were much more expensive than paintings; hence the two media functioned in different contexts.
Gold brocade was an important element in the display of wealth and status at grand courts, while painting often formed the only affordable substitute for courtly splendour for the socially ambitious but less affluent urban upper-middle class.
Their value and cultural role also meant that gold-brocaded textiles could be included in paintings both in praise of luxury and as a condemnation of it - sometimes in one and the same work. Gold brocade and Renaissance painting examines the skills artists developed for representing these lavish textiles.
It uses a wide range of documents (from inventories and account books to letters, poems, educational treatises and sermons) to compare the economic value of gold brocade and painting, clarify the conditions of their use, and interpret the different messages given by brocades in different pictures.
Primarily, however, the book deals with the distinction between fact and fiction, imagination and reality in the world shown in Renaissance paintings.
Information
Format: Hardback
Pages: 424 pages, 227 illus, 20 in col
Publisher: Pindar Press
Publication Date: 31/12/2008
ISBN: 9781904597421
Free Home Delivery
on all orders
Pick up orders
from local bookshops