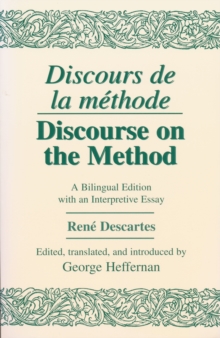 Discours de La Methode/Discourse on the Method : A Bilingual Edition with an Interpretive Essay
Paperback / softback
Description
Dialectic and Narrative in Aquinas investigates the intent, method, and structural unity of Thomas Aquinas's Summa Contra Gentiles.
In this innovative study Thomas S. Hibbs goes against the grain of most traditional interpretations of the work, which claim it serves a missionary or apologetic end, and argues that the intended audience is Christian and that its subject is Christian wisdom.
In the process of making his argument, Hibbs also demonstrates that the Summa Contra Gentiles is the most important of Aquinas's texts on the relationship between faith and reason, theology, and philosophy. Since the prologue to the Summa Contra Gentiles has been the focus of nearly all the debates over the work, Hibbs begins with an examination of it and the controversies it has provoked, and tests various interpretations of the prologue in light of the actual text.
He then goes on to suggest that the method of the Contra Gentiles is dialectical and that its unifying principle is provided by the narrative structure of scripture.
The next chapters are devoted to each of the Contra Gentiles' four ports and Hibbs argues that any interpretation of the first three books must consider how the order of Aquinas's discussion is driven by a series of dialectical encounters with received opinions, especially those of Aristotle and his commentators.
Hibbs further demonstrates how attention to the dialectical method of the work has two advantages: first, it enables readers to avoid misinterpretations of Aquinas's positions on various issues, and second, it allows the reader to recapture something of Aquinas's original pedagogical intent.
Dialectic and Narrative in Aquinas also reveals how the dialectical method of the Contra Gentiles is crucial to Aquinas's project of subordinating philosophy to theology, and in the concluding chapter Hibbs considers in detail the narrative unity of the Contra Gentiles and brings themes from Aquinas into conversation with contemporary work in genre theory.
Information
Format:Paperback / softback
Pages:272 pages
Publisher:University of Notre Dame Press
Publication Date:31/01/1994
Category:
ISBN:9780268008710