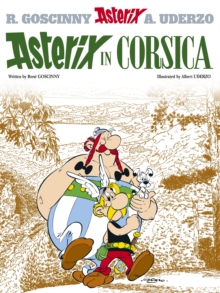 Asterix: Asterix in Corsica : Album 20
Paperback
Part of the Asterix series
Description
Vendettas, fierce family pride, resistance fighters dodging the enemy in the maquis - we're in Cosica in 50 BC.
Asterix and Obelix help Chief Boneywasawarriorwayayix to foil the evil designs of Praetor Perfidius and oppose Julius Caesar's army.
For the only emperor the proud Corsicans will ever accept, so they say, must be a Corsican himself...
Information
Format: Paperback
Pages: 48 pages, 48 Illustrations, unspecified
Publisher: Hachette Children's Group
Publication Date: 15/12/2004
Category: Comic strip fiction / graphic novels
ISBN: 9780752866444
Free Home Delivery
on all orders
Pick up orders
from local bookshops
Reviews
Showing 1 - 3 of 3 reviews.
Review by adpaton
16/06/2015
Apparently this is the best selling-title of all the Asterix books, despite being one of the least popular in English: having said that, it is one of my favourites, possibly because I read the translation shortly after having reread and watched the film of the Godfather. Although the drawings do not reference the book or the film in the slightest, the personalities, the vendettas, the old women in black and the hill villages made me think of Sicily and the Mafia. The book started with visits from old friends from many other favourite titles - Huevos Y Bacon and Pepe from Asterix in Spain, Dipsomaniax and the gang from Britain, Petitsuix from Switzerland, Instantmix from Lutetia [Gladiator] and a diverse crowd from the Banquet but moves rapidly to Corsica where the two friends, together with Doubelohsix [spy] and Boneywasawarriorwayayix [ Corsican rebel] plunge into a new and very entertaining adventure.
Review by theboylatham
16/06/2015
Six out of ten. CBR format.
Asterix and Obelix make friends with a Corsican chieftain who has been imprisoned by Caesar. Together they return to Corsica to foil the evil plans of the Romans.
Review by scuzzy
16/06/2015
I have read a lot of these historical records on the Gaulish uprising against Julius Caesar, and of them all this by far would have been one of the most enjoyable, and certainly clever editions.While you expect a lot of references to Cosa Nostra it doesn't play on it at length, but makes some little hints at life of the underworld and its ability to keep eerily quiet and calm in the face of adversity and authority, as well as an ability to hold a grudge.A Corsican chief is exiled to Gaul who is then inadvertently saved during a camp raid by Asterix and co during a tribal celebration (and we see some of our old friends from travels pop up such as Anticlimax and Mykingdomforanos from the tour of Britain, Jellibabix and Drinklikafix from the Banquet, as well as some new ones to come in Senbiorservix and Wineanspirix).Anyways...so they escort this Corsican back to his homeland, and then get involved in some of the village politics and dealings of their culture, including a near miss when Obelix 'talks and smiles' to one gentleman's sister. It ends up with a massive raid on a Roman town where they retrieve their loot that has been pillaged for Rome, and somehow even the long-suffering pirates become involved.In what is their classic trademark, puns and playing on names, this volume is abundant with names to figure out and then giggle away once you get it. Starting with a map of Corsica (which replaces the traditional Gaulish map) showing Roman camps such as; Premium, Hum, Chewingum, Humdrum, Maximum and Minimum, Welcum and Album amongst others.Then we have the Romans; Centurion Hippopotamus and an up-start Legionnaire Courtingdisastus.But it is the Corsicans with the names we would all expect to know; Potatognocchix, Semolinagnocchix, Spagettix, Tagliatellix, Cannellonix, Lasagnix and of course Raviolix.But the cleverest of them all is the chief, Boneywasawarriorwayayix which is a reference to a song about Napoleon Bonaparte and at times the name gets mixed up in a humourous manner, such as Asterix incorrectly naming him Wellingtonwasa...in reference to the Duke of Wellington, and the pirate captain mistakenly calling him Boneywasawarriorpomtiddlypom and the Legionnaire Boneywasawarriorheynonnyno. Classic!This was the biggest selling episode of the Asterix series in France, yet did not sell well in the remainder of Europe.Being the 20th, the reference to the Anniversary of Gergovia, hence the characters from previous tours attending.