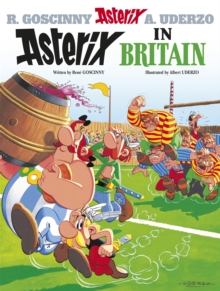 Asterix in Britain : Album 8
Hardback
Part of the Asterix series
Description
One little ancient British village still holds out against the Roman invaders.
Asterix and Obelix are invited to help. They must face fog, rain, warm beer and boiled boar with mint sauce, but they soon have Governor Encyclopaedicus Britannicus's Romans declining and falling.
Until a wild race for a barrel of magic potion lands them in the drink.
It's not quite cricket - how about a nice cup of hot water, though? Or even the first ever tea-party?
Free Home Delivery
on all orders
Pick up orders
from local bookshops
Reviews
Showing 1 - 1 of 1 reviews.
Review by David.Alfred.Sarkies
16/06/2015
I did not find this particular album as good as some of the other ones that I have read, though it has nothing to do with the writer's portrayal of the British. In fact, compared to the way the Simpsons did their episode on Australia (which, as an Austalian, I found incredibly insulting) I don't think they did that bad a job (but then again, I'm not British). Okay, I didn't get the whole joke about boiled meat (I was expecting Fish and Chips if you know what I mean, I thought that was the traditional English meal) but I did get the jokes about warm beer and hot water, as well as the fog and the fact that when it wasn't foggy, it was raining.Julius Ceaser, having conquered Gaul, has decided that he will now turn his sights to the island that lays just across the Mere Brittanicum. Basically the Britons had been helping the Gauls fight the Romans during the invasions, so Ceaser decides that he will cross the channel and subjugate what would be a potential for further rebellion against Roman rule. The Britons turn out to be pretty hardy fighters, except that at 5:00 pm on the dot they all stop fighting to have their cup of hot water, and that they will refuse to fight on two days out of every seven, because it is the weekend. Ceaser, always the opportunist, decides that the best time to fight the British is at 5:00 on the dot, and on the weekend, so victory is assured, that is, all except one little village that seems to be holding out.As it happens, one of the villagers, Anticlimax, happens to have a first cousin (once removed) who lives in a little village that has been holding out against the Romans for quite a long time, and because it will only be time before the Romans subdue this little village, he decides to go to visit his cousin (who happens to be Asterix) for some help. Always willing to help out people fighting the Romans (and also because all of the Romans have gone over the channel to Britain) they take a cask full of magic potion and cross the channel to help.There are a lot of interesting jokes floating around here, particularly to those of us who are familiar with Ancient History. As it turns out, people have been planning on building a tunnel under the English channel as far back as Roman times (and at the time of writing, the Euro Tunnel had not yet been built, and in fact I believe that the tunnel itself is still very new, in relative terms). We also meet Bodiecia, who happens to live in one of those houses on those streets were all of the houses pretty much look the same, and we even get to go to a rugby match (and it is very amusing when they happen to land up with some of the magic potion).As I said, while this was a great little adventure, and funny in parts, it did not seem to catch me as much as some of the other albums had. On the other hand, the author's use of names, such as calling the Roman governor Encyclopedius Brittanicus, was what one could expect from these albums. What would have been interesting though is to see how the original French constructed the English language because I doubt the writers would have written it in English, however the way the English translation came out was still quite amusing.