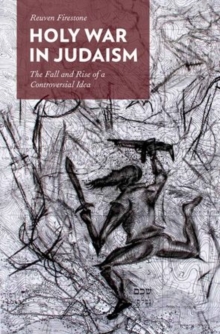 Holy War in Judaism : The Fall and Rise of a Controversial Idea
Hardback
Description
Holy War in Judaism is the first book to consider how the concept of ''holy war'' disappeared from Jewish thought for almost 2000 years, only to reemerge with renewed vigor in modern times.
Holy war, sanctioned or even commanded by God, is a common and recurring theme in the Hebrew Bible, but Rabbinic Judaism largely avoided discussion of holy war in the Talmud and related literatures for the simple reason that it became extremely dangerous andself-destructive.
The revival of the holy war idea occurred with the rise of Zionism, and as the need for organized Jewish engagement in military actions developed, Orthodox Jews faced a dilemma.
There was great need for all to engage in combat for the survival of the infant state of Israel, but the Talmudic rabbis hadvirtually eliminated divine authorization for Jews to fight in Jewish armies.
The first stage of the revival was sanction for Jews to fight in defense.
The next stage emerged with the establishment of the state and allowed Orthodox Jews to enlist even when the community was not engaged in a war of survival.
Once the notion of divinely sanctioned warring was revived, it became available to Jews who considered that the historical context justified more aggressive forms of warring.
Among someJews, divinely authorized war became associated not only with defense but also with a renewed kibbush or conquest, a term that became central to the discourse regarding war and peace and the lands conquered by the state of Israel in 1967.
By the early 1980's, the rhetoric of holy war had entered thegeneral political discourse of modern Israel.
In this book Reuven Firestone identifies, analyzes, and explains the historical, conceptual, and intellectual processes that revived holy war ideas in modern Judaism.
The book serves as a case study of the way in which one ancient religious concept, once deemed irrelevant or even dangerous, was successfully revived in order to fill a pressing contemporary need.
It also helps to clarify the current political and religious situation in relation to warand peace in Israel and the Middle East.
Information
Format: Hardback
Pages: 384 pages
Publisher: Oxford University Press Inc
Publication Date: 27/09/2012
Category: Religion & politics
ISBN: 9780199860302
Other Formats
PDF from £35.13
EPUB from £35.13
Free Home Delivery
on all orders
Pick up orders
from local bookshops