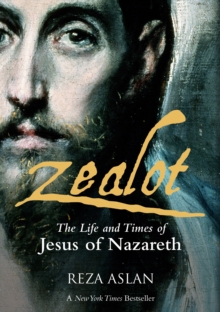 Zealot : The Life and Times of Jesus of Nazareth
Hardback
Description
Who was the Jewish peasant who, two thousand years ago, walked across what is now Palestine to gather followers with the goal of establishing the Kingdom of God? Balancing the Jesus of the Gospels against the historical sources, Aslan describes a man full of conviction and passion, yet rife with contradiction; a man of peace who exhorted his followers to arm themselves with swords; an exorcist and faith healer who urged his disciples to keep his identity a secret; and ultimately the seditious "King of the Jews" whose promise of liberation from Rome went unfulfilled in his brief lifetime.
Aslan explores the reasons why the early Christian church preferred to promulgate an image of Jesus as a peaceful spiritual teacher rather than a politically conscious revolutionary. And he grapples with the riddle of how Jesus understood himself, the mystery that is at the heart of all subsequent claims about his divinity. Zealot yields a fresh perspective on one of the greatest stories ever told even as it affirms the radical and transformative nature of Jesus of Nazareth's life and mission. The result is a thought-provoking, elegantly written biography with the pulse of a fast-paced novel: a singularly brilliant portrait of a man, a time and the birth of a religion.
Information
Format: Hardback
Pages: 299 pages, illustrations, 1 map
Publisher: The Westbourne Press
Publication Date: 12/08/2013
Category: The historical Jesus
ISBN: 9781908906274
Other Formats
Paperback from £8.35
EPUB from £7.19
Free Home Delivery
on all orders
Pick up orders
from local bookshops
Reviews
Showing 1 - 2 of 2 reviews.
Review by speljamr
16/06/2015
This is a book about what could be one of the hardest subjects a historian could attempt to tackle. The historic Jesus is a character that has very little real historic verification, leading most scholars to take best guesses on what the real Jesus may have been like, or if he even existed. And this book is no different as Aslan attempts to build a picture based on the available historic evidence and what records we do have about actual events around that time and place. It does start off with one assumption though: that Jesus was a real man and not a deified entity created from the various self proclaimed messiahs of the time, as other works on this subject have claimed.In the process of piecing together a more realistic picture than the dramatic stories presented in the canonical gospels Aslan is quick to dismiss the portions that are plainly absurd and only there to present a particular picture to the audience the gospel version is intended for. For example, The stable in Bethlehem picture, because Bethlehem did not even exist in that time based on known historical documents, Nazareth did however. Or also the scenes with Pontius Pilate, who in some versions of the story tries to save Jesus, but is historically accounted for as absolutely hating the Jewish people,so much so that complaints are regularly sent to the Roman Emperor regarding the numerous crucifixions. And just as equally Aslan is quick to point out when the version presented adds insight to the real man and highlights his real motivations when looked at in the historic context in which it takes place.The research done by the author is well documented in the notes and bibliography, which is sure to give the reader plenty more to explore should he or she wish to do so. Unless your the type who refuses to stray one ounce from your dogma, this book is a must read for believers and non-believers alike. It adds to the many other volumes on this subject and paints a picture of a man who is probably more fascinating than the one presented by the religion in his name.
Review by PennyAnne
16/06/2015
This book aims to paint a picture of the historical Jesus as a man (one among many at the time who were called messiahs) who tried to change the system and overthrow the Roman stranglehold of Palestine. While I don't necessarily disagree with this take on Jesus' life the book did bother me in a number of ways - it purported to be scholarly without actually being scholarly (no footnotes, just general chapter notes at the end of the book); it was disjointed and difficult to follow timeline wise; it made no suggestion as to why Jesus' movement managed to survive after his death whereas no other Messianic movement took long-term hold anywhere; it dismisses much of the Bible as "unbelievable" and "impossible" and then blithely accepts other parts because they fit with the author's theory. I was entertained by this book and I did learn some things which I hadn't previously known (eg. there almost definitely was never a slaughter of the innocents) but it is a book which must be taken with several grains of salt - particularly, I think, if you are like me and not steeped in studies of the bible and its history.