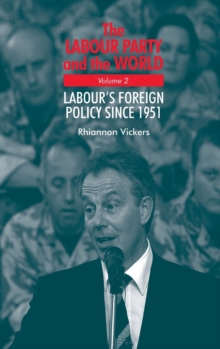 The Labour Party and the World, Volume 2 : Labour's Foreign Policy Since 1951
Hardback
Description
This is the second book in a unique two-volume study tracing the evolution of the Labour Party's foreign policy throughout the 20th century to the present date. This is the first comprehensive study of the history of the Labour Party's worldview and foreign policy.
It argues that Labour's foreign policy perspective should be seen not as the development of a socialist foreign policy, but as an application of the ideas of liberal internationalism. Volume Two provides a critical analysis of Labour's foreign policy since 1951.
It examines Labour's attempts to rethink foreign policy, focusing on intra-party debates, the problems that Labour faced when in power, and the conflicting pressures from party demands and external pressures.
It examines attitudes to rearmament in the 1950s, the party's response to the Suez crisis and the Vietnam War, the bitter divisions over nuclear disarmament and the radicalisation of foreign and defence policy in the 1980s.
It also examines Labour's desire to provide moral leadership to the rest of the world.
The last two chapters focus on the Blair and Brown years, with Blair's response to the Kosovo crisis, to 9/11 and his role in the 'war on terror'.
Whereas Blair's approach to foreign affairs was to place emphasis on the efficacy of the use of military force, Brown's approach instead placed faith in the use of economic measures. This highly readable book provides an excellent analysis of Labour's foreign policy.
It is essential reading for students of British politics, the Labour Party, and foreign policy. -- .
Information
Format:Hardback
Pages:256 pages
Publisher:Manchester University Press
Publication Date:30/09/2011
Category:
ISBN:9780719067464