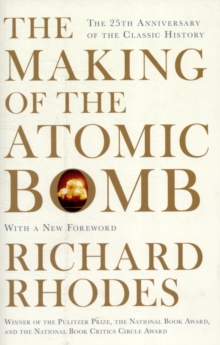 The Making Of The Atomic Bomb
Paperback
Description
With a brand new introduction from the author, this is the complete story of how the bomb was developed.
It is told in rich, human, political, and scientific detail, from the turn-of-the-century discovery of the vast energy locked inside the atom to the dropping of the first bombs on Japan.
Few great discoveries have evolved so swiftly -- or have been so misunderstood.
From the theoretical discussions of nuclear energy to the bright glare of Trinity there was a span of hardly more than twenty-five years.
What began as merely an interesting speculative problem in physics grew into the Manhattan Project, and then into the Bomb with frightening rapidity, while scientists known only to their peers -- Szilard, Teller, Oppenheimer, Bohr, Meitner, Fermi, Lawrence, and yon Neumann -- stepped from their ivory towers into the limelight.
Richard Rhodes takes us on that journey step by step, minute by minute, and gives us the definitive story of man's most awesome discovery and invention.
The Making of the Atomic Bomb has been compared in its sweep and importance to William L.
Shirer's The Rise and Fall of the Third Reich. It is at once a narrative tour de forceand a document as powerful as its subject.
Information
Format: Paperback
Pages: 896 pages
Publisher: Simon & Schuster Ltd
Publication Date: 01/07/2012
Category: Weapons & equipment
ISBN: 9781471111235
Free Home Delivery
on all orders
Pick up orders
from local bookshops
Reviews
Showing 1 - 1 of 1 reviews.
Review by thorold
27/08/2015
There are essentially three stories here. The process of scientific investigation of the atom that brought about the discovery that nuclear fission had potential as a means for the controlled and uncontrolled release of large amounts of energy; the political and ethical discussion that led to the decision to develop and exploit this, and the engineering effort needed to realise it in practice. Rhodes does a good job of balancing these three elements - I was reasonably familiar with both the science and the politics from other sources, but I still found his account interesting and occasionally it even told me something I'd overlooked before. About the engineering side of things I knew essentially nothing, and there I found this account absolutely fascinating. When you understand the sheer scale of the effort required to produce useful quantities of enriched uranium or plutonium, it makes you see the whole thing in quite a different way. It wasn't a matter of a few élite scientists tinkering on a mesa in New Mexico: as Rhodes describes it there were vast factory complexes in several different regions of the USA employing tens of thousands of workers to produce a few kilos of bomb material. And presumably not having the least idea what they were making.Whilst he is very good as a descriptive writer, with only the occasional irritating mannerism (e.g. a tendency to be a bit patronising when mentioning the wives of the male scientists), what I missed in this book was analysis. Except when his characters stop to reflect themselves, Rhodes never really steps away from the flow of the action, and he doesn't get into discussions of why something happened, how to resolve conflicting reports of something, or what might have happened had a different decision been taken. It's all very much "it happened, therefore it happened". Rhodes never directly expresses a moral judgement on the people who took the decision to build the bomb and to use it. His technique is to present us with the evidence (as he sees it) and let us make up our own minds. Which is probably sensible, if he wants to sell his book to generals as well as to liberals, and gets him off the hook of judging with hindsight. But the way the evidence is presented does seem to be designed to remind us that the worst atrocities of World War II were carried out with "conventional" weapons, and to guide us into agreeing that it would have been dangerous not to work on atomic weapons whilst there was a risk that Hitler might be doing the same, and foolish of Truman not to use the atom bomb to end the war with Japan. Which of course skips over a few problematic areas... Rhodes tells us surprisingly little about how much the various participants in the nuclear arms race knew about each other's work during the war. Even if security and espionage fall a little outside the framework of the book, these are very relevant questions for the decision-making process (at the moment when you discover that Hitler has no realistic chance of building a bomb, your main justification for developing a US bomb falls away, for instance). I wonder if some of his vagueness here is deliberate, or whether it is simply a matter of not having been granted access to the relevant records? The argument he mentions, that the project was so secret it would have been unacceptably risky even to tell a field agent what questions to ask, doesn't seem terribly convincing.