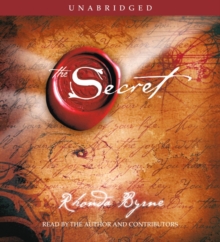 Description
Once known only by an elite who were unwilling to share their knowledge of the power, 'the secret' of obtaining anything you desire is now revealed by prominent physicists, authors and philosophers as being based in the universal Law of Attraction. And the good news is that anyone can access its power to bring themselves health, wealth and happiness.
Fragments of The Secret have been found in oral traditions, literature, religions and philosophies throughout the centuries.
A number of the exceptional people who discovered its power went on to become regarded as the greatest human beings who ever lived.
Among them: Plato, Leonardo, Galileo and Einstein. Now 'the secret' is being shared with the world. Beautiful in its simplicity, and mind-dazzling in its ability to really work, The Secret reveals the mystery of the hidden potential within us all.
By unifying leading-edge scientific thought with ancient wisdom and spirituality, the riveting, practical knowledge will lead readers to a greater understanding of how they can be the masters of their own lives.
Information
Format: CD-Audio
Publisher: Simon & Schuster
Publication Date: 28/11/2006
Category: Thought & practice
ISBN: 9780743566193
Other Formats
eAudiobook MP3 from £15.08
Hardback from £10.65
CD-Audio from £9.65
EPUB from £8.99
Paperback from £9.89
Free Home Delivery
on all orders
Pick up orders
from local bookshops
Reviews
Showing 1 - 4 of 4 reviews.
Review by Seajack
16/06/2015
I've read many New Thought authors (Shinn, Collier, Ponder, etc.), yet found the material presented here a good re-enforcement of the Truth message. While the audio worked for me, I'm not sure the print book would've resonated nearly as much without hearing the author's enthusiastic tone, and that of her various colleagues.
Review by PghDragonMan
16/06/2015
Psst! Wanna know a secret? <i>The Secret</i> is a money making scam based on a lot of information you've heard before . . . for free. "Keep a positive image and it will come to be. Imagine what you want, imagine you already have it and it will come to be. You attract what it is you really want." There. That's it. And I won't even charge you for it, like Rhonda Byrne wants to.While I have no objection to self help books or trying to change anyone's life for the better, I do object to the money making scam the author has turned this idea into. There's a website for the book. Nothing new here. Want to watch the trailer for the movie? That's free. Want to see the movie? Show her the money! Want to get positive reinforcement messages daily to your phone? Show her the money! If this message is so good and so important for everyone to know, why not take a page from your own playbook and share it with people for free!Redfield's first <i>Celestine Prophecy</i> book at least had an entertaining story to help keep your interest. After Disc 1, I gave up on <i>The Secret</i>, despite the author's vibrant voice and the endless endorsements. In the beginning, I thought this was going to be a mocumentry of the author finding some long lost manuscript that changed her life overnight. Even the name of one of the experts providing an endorsement, Bergman, conjured up images of Procter and Bergman, the core of the quintessential audio comedy team known as <i>Firesign Theater</i>, reinforcing my expectations of a mocumentry.You know, though, Rhonda Byrne is correct. I did not expect anything serious and I did not get anything serious. Excellent use of the audiobook medium and technical recording earns this recording a full star. I give it a zero for content.
Review by smcamp1234
16/06/2015
Seriously works, many people have known about it. It's just brought together into words rather than thoughts now.
Review by Athenable
16/06/2015
3/24/12 This is a distressingly awful book.<br/><br/>2/15/12 I expect to be disgusted with this book.