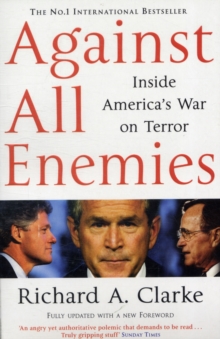 Against All Enemies : Inside America's War on Terror
Paperback
Description
When Richard Clarke's AGAINST ALL ENEMIES vaulted in to the public arena, an instant Sunday Times and New York Times bestseller and media sensation, it changed the debate about the war on terror. his revelations about the Bush administration's inattention to the threat to terrorism pre-9/11, and his stinging critique of the impact on terrorism of the war on Iraq, made front-page headlines.
It is no wonder the White House went into full attack mode.
Yet as the extraordinary reviews attest, AGAINST ALL ENEMIES is far more than simply a book about a single moment in time.
It is both the most authoritative history of America's twenty-year struggle with terrorism, and a timeless memoir revealing how the US government really works.
Now with a new foreword discussing recent events in the war on terror, and the West's continuing struggle to respond, AGAINST ALL ENEMIES is set to sell for many years to come.
Information
Format: Paperback
Pages: 352 pages
Publisher: Simon & Schuster Ltd
Publication Date: 03/10/2004
Category: International relations
ISBN: 9780743268233
Other Formats
EPUB from £6.99
eAudiobook MP3 from £13.40
Free Home Delivery
on all orders
Pick up orders
from local bookshops
Reviews
Showing 1 - 2 of 2 reviews.
Review by Borg-mx5
16/06/2015
From the inside, from someone who was there, we can see the failures of President Bush and to a lesser extent, his predecessors contributed to the tragedy of 09/11. Mr. Clarke may be asking for his own exoneration from that event, but he presents a compelling case against the Bush adminstration, that before and after the Twin Towers fell, he and his cohorts took their eyes off the ball and embroiled this country in a war is didn't have to fight. Conservatives will not be swayed by this book. For liberals, it will confirm their worst fears. To anyone who reads it, please keep an open mind.
Review by Clueless
16/06/2015
A horrifying glimpse into the train wreck relationship between the CIA and FBI immediately before 911. Hindsight is 20/20 they say. After reading the briefing at the end that said, 'something horrible is going to happen soon, somewhere' - I can see why Bush didn't immediately shake billions of dollars free to buy gas masks/radiation burn kits for the entire population of New York City.<br/><br/>Now that Clinton is out of office his brilliance is really beginning to come to light, the story of him here is no different - he was shown to be clever, erudite and very, very effective in wielding his power as president - Bush Jr. was not.<br/><br/>Clark clearly explains many concepts that have been heavily obfuscated and poorly (slantedly) written about in the media. Like al Qaeda, the Taliban, bin Laden the US invasion of Iraq.<br/><br/>Clark's plea for preparedness is a bit hypocritical I think. It reminds me of all those bomb shelters that were built in the cold war. Of course Clark would see everything from his perspective of being the terrorism prevention/rediness Czar - but isn't it a bit hypocritical to ask for the country to go further into debt for a 'maybe/someday' threat? Kind of like invading a country for a 'maybe/someday' capability to produce weapons of mass destruction.<br/><br/>A fascinating well written read.