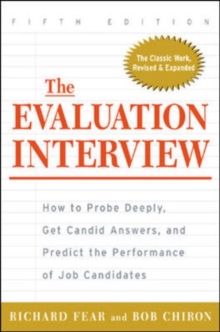 The Evaluation Interview
Hardback
Description
This book contains interviewing techniques for building rapport, keeping control, and listening behind the words to hear what a candidate is really saying. "The Evaluation Interview" has been the essential interviewer's guidebook for more than 40 years.
Its hands-on techniques and interviewing insights are renowned for helping hiring managers and personnel interviewers put applicants at ease and reveal their true character.
This revised and updated fifth edition, is tailored to the realities of interviewing applicant's in today's workplace with new material covering: tactical interviewing strategies; how to ask 'behavioral' questions that leave interviewees no wiggle room Legal issues; questions you cannot ask in an interview; overall 'fit'; and evaluating candidates for how well they fit into your organization's culture and strategic priorities.Praise for previous editions of "The Evaluation Interview": 'Stands out above the rest...Should be in the library of every organization and owned personally by every personnel interviewer' - "Personnel Psychology". 'The definitive work in its field...This book lays down a technique used by thousands of personnel interviewers across the country' - "Esquire". 'People, in the final analysis, determine whether a business succeeds or fails. Organizations need to hire people with potential for growth.
That is what this book is all about' - From Chapter 1.For four decades, "The Evaluation Interview" has set the standard for conducting accurate employment interviews, learning what makes prospective hires tick, and hiring only those people who will contribute to a company's growth as they grow along with it.
This fifth edition updates the book, yet keeps intact the basic principles and guidelines that have made this human resources classic the most valuable and indispensable interviewer's guide on the market.Managers and HR professionals will gain essential information on: tips for developing rapport and encouraging the candidate to talk spontaneously; guidelines for crafting a detailed and accurate job description; key character traits for job levels - from administrative to executive; writing the interview summary and determining the overall interview result; and, using interviews to assist in succession planning, teambuilding, and other vital tasks.'Wherever they are faced with situations that require drawing another person out, finding out what is on that person's mind and analyzing the responses, students of this book have a genuine advantage' - From the Preface.
More than just the actual employment interview, "The Evaluation Interview" is helpful in conducting numerous other day-to-day activities.
The book includes on-campus interviews, on-the-job performance appraisals, information gathering from contractors, subordinates, and even superiors.
The interviewing skills learned here can be applied to virtually any one-to-one situation, and will often spell the difference between evasive, selective responses and full disclosure."The Evaluation Interview" has retained its popularity for nearly two generations by combining fundamentally sound interviewing techniques with lively writing and up-to-the-minute behavioral research.
It remains the essential guide for posing meaningful questions, gaining honest and complete answers, and getting the information you need to build a cohesive, dedicated, and long-term workforce.
Free Home Delivery
on all orders
Pick up orders
from local bookshops