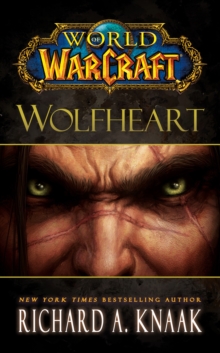 World of Warcraft: Wolfheart
Paperback
Description
In the wake of the Cataclysm, conflict has engulfed every corner of Azeroth.
Hungering for more resources amid the turmoil, the Horde has pressed into Ashenvale to feed its burgeoning war machine.
Unaware of the disaster brewing in Ashenvale, the night elves' legendary leaders High Priestess Tyrande Whisperwind and Archdruid Malfurion Stormrage conduct a summit near Darnassus in order to vote the proud worgen of Gilneas into the Alliance.
However, resentment of Gilneas and its ruler, Genn Greymane, runs deep in Stormwind's King Varian Wrynn.
When a murdered Highborne is discovered on the outskirts of Darnassus, Malfurion and Tyrande move to stop further bloodshed and unrest by appointing one of the night elves' most cunning and skilled agents to find the killer: the renowned warden Maiev Shadowsong.
Yet with all that is transpiring in Darnassus, the Alliance might be powerless to stop the relentless new warchief Garrosh from seizing the whole of Ashenvale.
Information
Format: Paperback
Pages: 464 pages, color tip-ins-insert; map
Publisher: Simon & Schuster
Publication Date: 29/05/2012
Category: Fantasy
ISBN: 9781451605761
Other Formats
eAudiobook MP3 from £20.12
EPUB from £5.99
Free Home Delivery
on all orders
Pick up orders
from local bookshops
Reviews
Showing 1 - 1 of 1 reviews.
Review by stefferoo
16/06/2015
I'm sure I've said before that I would never read another World of Warcraft book by Richard A. Knaak, and yet here we are once again. I guess I just never learn my lesson.Of course, I had my reservations, but my interest in the game's lore and characters won out in the end, especially since I discovered from the title and description that this book was going to be focused on King Varian Wrynn. I never really cared much for him as an in-game NPC, but after reading the World of Warcraft comics he started to really grow on me. I was curious what this book would add to his character.I really shouldn't have bothered. I have to say he's pretty unlikeable in this book -- petty, arrogant, pig-headed, annoying...the list goes on and on. The worst part is, it was done in such a ham-fisted way in order to make the flimsy plot work.This whole book also reads like a very bad piece of fan fiction. I know I shouldn't expect that much from game tie-in novels, but I've actually read some pretty decent ones in recent years and I think my standards are pretty realistic and I'm not demanding too much. The problem, I think, is Richard A. Knaak; I'm just not a fan of his writing. Guess I'll just stick with WoW books by other authors from now on. Christie Golden, for instance, has written some that I thought weren't too bad.