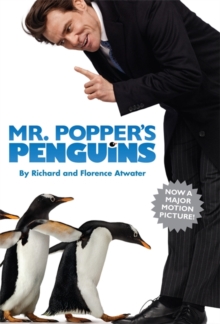 Mr Popper's Penguins
Paperback
Description
The lovable Mr. Popper dreams of being an intrepid Antarctic explorer, living life among the penguins alongside his hero, Admiral Drake. So he is shocked one day when the admiral responds to his fan letter by sending him a real, live penguin! Soon, this penguin is joined by another and before long Mr. Popper has an ice-rink in the basement and a dozen delightful penguins living in his house. With barely enough money to feed his family and an increasing demand for raw fish and canned shrimp, what can the wonderfully imaginative Mr. Popper do but train his penguins and then take the show on the road!
Information
Format: Paperback
Pages: 144 pages
Publisher: Little, Brown & Company
Publication Date: 10/05/2011
Category: Classic
ISBN: 9780316186469
Free Home Delivery
on all orders
Pick up orders
from local bookshops
Reviews
Showing 1 - 5 of 10 reviews.
Previous | Next
Review by Jenpark
16/06/2015
This book was average. As I was reading it to my 7-year-old, I found myself having to explain a lot of things, for example, that when the book was written, women didn't have too many career choices; that's why Mrs. Popper stays home and cleans the house all day.
Review by Pollifax
16/06/2015
I read it in 3rd grade and i absolutely loved it. I found it very funny and exciting. I really like that he named the penguin capt. Cook also I like how he describes his job as a painter
Review by suetu
16/06/2015
Confession: I had never heard of the book Mr. Popper's Penguins until I started hearing promotion for the Jim Carrey film. It was being billed as a "children's classic," and not only had I not read it, I couldn't find a soul who had. I felt the need to rectify the situation, if only to satisfy my curiosity. It's the sweet story of a husband, father, and housepainter who is captivated by all things Polar. After writing a letter to Admiral Drake on expedition in Antarctica, the charmed Admiral sends Mr. Popper a present. You guessed it! It's his very own pet penguin! The Poppers name him Captain Cook and set him up in the icebox. As for how the Poppers go from one pet penguin in the icebox to a dozen performing penguins on the vaudeville circuit, well, that's the story. It's a charming tale for younger readers, made all the more delightful by Robert Lawson's illustrations. Even on my Kindle, these reproductions of the originals looked great. While not unpleasant, this innocent tale from the past had limited appeal to this adult reader, but I can certainly see the delight of one day sharing it with my nephew.
Review by writestuff
16/06/2015
The classic children's book Mr. Popper's Penguins, written in 1938 by Richard and Florence Atwater, takes place in the small fictional town of Stillwater where Mr. Popper lives with his wife and two children. Mr. Popper is a dreamer, a man who works as a painter but longs to travel the world. When a letter written to Admiral Drake results in a surprise delivery of a live penguin from Antarctica, the Popper's family is turned upside down. Then a second penguin arrives unexpectedly from a zoo, and the penguins begin to multiply. Before the Poppers know it, their home has been converted into a freezing playground for penguins. Eventually, Mr. Popper discovers that penguin antics are marketable and the Popppers hit the road with their penguins to entertain the public.The book is delightful, silly and wholly fantastical. Children of all ages will find this 1939 Newbury Honor winner whimsical and fun.
Review by crashingwaves38
16/06/2015
While I haven't read this, my daughter did. She finished it in less than an hour and laughed out loud several times, so she seemed to enjoy it.