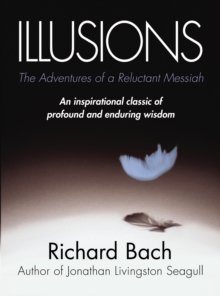 Illusions : The Adventures of a Reluctant Messiah
Paperback
Description
In the cloud-washed airspace between the cornfields of Illinois and blue infinity, a man puts his faith in the propeller of his biplane.
For disillusioned writer and itinerant barnstormer Richard Bach, belief is as real as a full tank of gas and sparks firing in the cylinders ...until he meets Donald Shimoda - former mechanic and self-described messiah who can make wrenches fly and Richard's imagination soar...In Illusions, the unforgettable follow-up to his phenomenal New York Times bestseller Jonathan Livingston Seagull, Richard Bach takes to the air to discover the ageless truths that give our souls wings: that people don't need airplanes to soar ...that even the darkest clouds have meaning once we lift ourselves above them ...and that messiahs can be found in the unlikeliest places - like hay fields, one-traffic-light midwestern towns, and most of all, deep within ourselves.
Information
Format: Paperback
Pages: 144 pages
Publisher: Cornerstone
Publication Date: 12/03/2001
Category: Biography: general
ISBN: 9780099427865
Free Home Delivery
on all orders
Pick up orders
from local bookshops
Reviews
Showing 1 - 5 of 12 reviews.
Previous | Next
Review by lunaverse
16/06/2015
Yet another life-changing book by Richard Bach. Bach pseudo-fictionally (?) finds a man claiming to be a Messiah. He teaches Bach a 1970's version of "The Secret".An allegory from this book was very timely for me as I read it. It told of a creature who lived at the bottom of the river -- who learned to let go of the river plants and fly above the other creatures.This was one of many small synchronicities of that time, which gave me the strength to achieve one of my most difficult goals -- move away from my small town to Seattle.I find Bach is the mystical Ayn Rand -- preaching egotism and enlightened self-interest, but without the militaristic adherence to atheism and logic.I really enjoy Bach's approach, and will recommend this -- and Jonathan Livingston Seagull -- to anyone interested in personal growth.
Review by Omrythea
16/06/2015
Excellent book! Try this... open up any book randomly to any page and see what advice and/or message helps you through your current problem. This book feels kind of life-changing and stays with you for a long while.
Review by sueo23
16/06/2015
This book was a life-changing experience for me. A friend gave it to me as a birthday present and what a surprise was inside. I have re-read it many times and have given as a gift myself to several people. I think the whole book is summe4d up by one quote..."Here is a test to see if your mission on earth is finished...if you're alive, it isn't"The book is full of analogous stories that deepen your understanding of your life and of other people's lives, and how they are all inextricably linked. My favourite book of all time!
Review by LA12Hernandez
16/06/2015
I really like the way this book starts. I made the mistake of starting to read this on my lunch hour at work and was so caught up in the story I was 15 minutes late going back on the floor. Thankfully my boss had also read the book and understood. Every one who borrows this book keeps it, I don't lend it out anymore I just buy it whenever I come across it and give them away.
Review by MikeLloyd
16/06/2015
My favorite book of all times. I read this in college and read it again every few years.