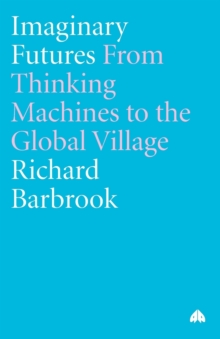 Imaginary Futures : From Thinking Machines to the Global Village
Paperback / softback
Description
This book is a history of the future. It shows how our contemporary understanding of the Internet is shaped by visions of the future that were put together in the 1950s and 1960s. At the height of the Cold War, the Americans invented the only working model of communism in human history: the Internet.
Yet, for all of its libertarian potential, the goal of this hi-tech project was geopolitical dominance: the ownership of time was control over the destiny of humanity.
The potentially subversive theory of cybernetics was transformed into the military-friendly project of 'artificial intelligence'.
Capitalist growth became the fastest route to the 'information society'.
The rest of the world was expected to follow America's path into the networked future.
Today, we're still being told that the Internet is creating the information society - and that America today is everywhere else tomorrow.
Thankfully, at the beginning of the twenty-first century, the DIY ethic of the Internet shows that people can resist these authoritarian prophecies by shaping information technologies in their own interest.
Ultimately, if we don't want the future to be what it used to be, we must invent our own, improved and truly revolutionary future.
Information
Format: Paperback / softback
Pages: 336 pages, 15 b&w drawings
Publisher: Pluto Press
Publication Date: 01/04/2007
Category: Information theory
ISBN: 9780745326603
Other Formats
PDF from £72.00
EPUB from £22.38
Hardback from £74.45
Also by Richard Barbrook