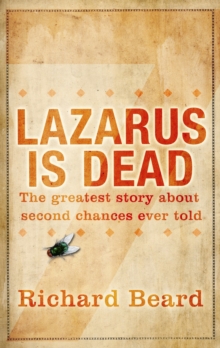 Description
Like most men in their early thirties, Lazarus has plans that don't involve dying.
He is busy organising his sisters, his business and his women.
Life is mostly good, until far away in Galilee, without warning, his childhood best friend turns water into wine.
Immediately, Lazarus falls ill. And with each subsequent miracle his health deteriorates: a nasty cough blooms into an alarming panorama of afflictions.
His sisters think Jesus can help, but given the history of their friendship Lazarus disagrees.
What he is sure of is that he'll try everything in his power to make himself well.
Except for calling on Jesus. Lazarus dies. Jesus weeps. This part we all know. But as Lazarus is about to find out, returning from the dead isn't easy.
You think you want a second chance at life, but what do you do when you get it?
Lazarus has his own story, he is his own man, and he is determined to avoid the mistakes he made the first time round.
A thrillingly inventive, genre-bending novel, "Lazarus is Dead" is the definitive account of the life, death and life of Lazarus, as never told before.
Information
Format: Hardback
Pages: 272 pages
Publisher: Vintage Publishing
Publication Date: 01/08/2011
ISBN: 9781846555060
Other Formats
Paperback from £6.65
EPUB from £2.99
Free Home Delivery
on all orders
Pick up orders
from local bookshops
Reviews
Showing 1 - 1 of 1 reviews.
Review by arkgirl1
16/06/2015
 Not all books have you starting conversations with friends and family, even ones you thoroughly enjoy, but this has had me sharing and chatting away because it really made me think. It counts down its chapters through the 7 main miracles in the gospel of John from Cana's 'water to wine' through to Bethany and the resurrection of Lazarus then counts up 7 chapters as the 7 days take us through to the death and resurrection of Jesus. It uses biblical quotes, religious art and documents/histories of the period to build up a real flavour of the time and cleverly extrapolates a story of Lazarus from just a few snippets. As a Christian I had no problem with the jumps and leaps, although not all were ones I found believable, because the joy of this book is that Beard gives us several questions that have you rushing off to explore more: * would Joseph have shared the information from his dream just after the birth of Jesus, where he is told to flee to Egypt, or would he have selfishly neglected to tell anyone? * how did Lazarus die? * how did Lazarus become the only person referred to as a friend of Jesus? These questions, and the answers suggested, made for intriguing and thought-provoking study. The one aspect that slightly disappointed is that from the blurb I was expecting more of the 'after the resurrection' story and felt this aspect was a little curtailed and under-explored but overall a brave step out stylistically that will have me looking out for more by Richard Beard.