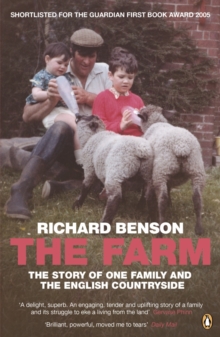 The Farm : The Story of One Family and the English Countryside
Paperback
Description
When Richard Benson was growing up he felt like 'the village idiot with O'levels' - glowing school reports aren't much help when you're trying to help a sow give birth, or drive a power harrow in a straight line without getting half the hedgerow stuck in the tines.
He left Yorkshire to work as a journalist in London, but returned when his dad called with the news that they were going to have to sell the family farm, and, in so doing, leave the home and livelihood that the Bensons had worked for generations. This is not only a moving personal account, but also one that reflects a profound change in rural life.
Information
Format: Paperback
Pages: 240 pages
Publisher: Penguin Books Ltd
Publication Date: 19/01/2006
Category: Autobiography: general
ISBN: 9780141012940
Free Home Delivery
on all orders
Pick up orders
from local bookshops
Reviews
Showing 1 - 2 of 2 reviews.
Review by Yorkshiresoul
16/06/2015
Richard Benson grew up on a farm in the Yorkshire Wolds. His parents had just enough land to earn a living for themselves and their three children, the work was hard and long, but fairly paid in the end.As Richard grew up he could never quite fit in on the farm, clumsy and uneasy with livestock, he became a good pupil at school and eventually went to university and became a journalist. In the time it took for Ricahrd to become his own man, life was changing for his parents and the brother that had stayed on to work with them.The rise and rise of the supermarkets was sounding the death knell for thousands of small farmers, as meat prices plummeted and only farms working on a vast scale of production could make a profit, many smallholders found that their beasts were raising less money at auction than they had spent on feed to fatten them up.It is this scenario that Benson describes, he comes back to the family farm where his stoic father and tearful mother expalin to him that they will have to sell the farm. It seems that the only way to secure any kind of financial future is to sell off the farm buildings for conversion into holiday or retirement homes.This isn't a story where the prodigal son returns home and turns around the family fortunes, against the multinational seed corporations and factory scale pig farms there is almost nothing that can be done to save the farm. Instead they raise money as best they can, selling the buildings, holding a heartbreaking auction of livestock, tools and equipment.There is redemption of a sort to be found though, Richard becomes closer to his family, especially his brother, and all is not quite doom and gloom. Theis book though makes a powerful and engaging statement about the effects the supermarkets and our own food purchasing have on people in the production chain.A few notes from The Farm....In 1939 there were approximately 500,000 farms in Britain, today there are about 19,000Four companies (Tesco, Asda-Walmart, Sainsburys, Morrisons) account for about 70% of all food sales in the UK.On average, a farmer receives about 7.5p for every £1 spent on food, fifty years ago this sum would have been nearer to 50 pence.
Review by coolmama
16/06/2015
Charming story of how difficult it is for a family farm to survive in England these days. Pre-dates and comes to the same conclusions as Michael Pollan in terms of mega farming. Really well done read!