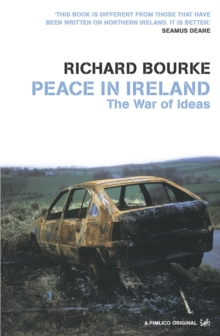 Peace In Ireland : The War of Ideas
Paperback / softback
Description
Peace in Ireland: The War of Ideas challenges the received wisdom about why Northern Ireland descended into internecine strife.
Focussing on the period from 1968 to the present, it argues that the Troubles were not the result of an upsurge in primitive hatreds, nor a reversion to tribal loyalties.
The conflict in Northern Ireland had a peculiarly modern character, the distinctive features of which are observable elsewhere around the globe today.
The Northern Ireland crisis centred around rival aspirations to democracy.
The very existence of such a crisis highlights the fact that democracy is a fundamental problem for modern politics, not an automatic recipe for harmony and accommodation.
Failure to grasp the significance of this problem has vital implications for the prospects of the current Northern Irish peace process.
In assessing those prospects, this brilliantly illuminating book provides a wider analysis of the core values which guide political judgement in the modern world, and explores one of the basic dilemmas facing present day politics. The history of Northern Ireland presents a struggle between the two organising principles of modern politics - democracy and imperialism.
However, the meaning of these principles has been systematically misunderstood under the influence of political prejudice and passion.
Through an exploration of the dynamics of war and peace in Northern Ireland, this book sets out to uncover the true significance of each principle, and to chart the dangers which accompany their misapplication in political conflicts which threaten the world at present.
Information
Format:Paperback / softback
Pages:480 pages
Publisher:Vintage Publishing
Publication Date:04/09/2003
Category:
ISBN:9781844133161
Other Formats
Paperback / softback from £12.65