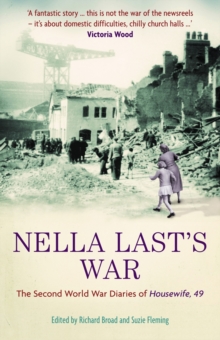 Nella Last's War : The Second World War Diaries of 'Housewife, 49'
Paperback
Description
In September 1939, housewife and mother Nella Last began a diary whose entries, in their regularity, length and quality, have created a record of the Second World War which is powerful, fascinating and unique.
When war broke out, Nella's younger son joined the army while the rest of the family tried to adapt to civilian life.
Writing each day for the "Mass Observation" project, Nella, a middle-aged housewife from the bombed town of Barrow, shows what people really felt during this time.
This was the period in which she turned 50, saw her children leave home, and reviewed her life and her marriage - which she eventually compares to slavery.
Her growing confidence as a result of her war work makes this a moving (though often comic) testimony, which, covering sex, death and fear of invasion, provides a new, unglamorised, female perspective on the war years.'Next to being a mother, I'd have loved to write books.' Oct 8, 1939
Information
Format: Paperback
Pages: 320 pages
Publisher: Profile Books Ltd
Publication Date: 16/11/2006
Category: Diaries, letters & journals
ISBN: 9781846680007
Free Home Delivery
on all orders
Pick up orders
from local bookshops
Reviews
Showing 1 - 5 of 8 reviews.
Previous | Next
Review by dowd
16/06/2015
On the Christmas tellybox, there was a drama project instigated by and starring Victoria Wood, based on the diaries of Nella Last, Housewife, 49. We thought it was brill, and I discovered the book on Amazon, and ordered it for myself as a late Crimbo pressie. If you didn't see the play, and get a chance to, I'd highly recommend it.Mrs Nella Last was a lower middle-class housewife in Barrow-in-Furness, aged 49 at the outbreak of the Second World War. She had a stable though fundamentally unsatisfying marriage, to a man who had taken on the family business as joiners and shipfitters. She had two sons, Arthur who is training to be a tax inspector, and therefore in a reserved occupation, and Cliff who is more unsettled in life, but has been called up and is going to be a fitness instructor. Her main role is to run the household, which she does with the help of a combined charlady and maid-of-all-work, who does the heavy work around the house a few days per week.Nella has never really been well, disabled in childhood and with a history of mystery "operations". She would have liked more children, and obviously enjoys having a household full of young people playing games and eating her good food. Her husband is not a social animal, and insists that she doesn't go out without him - then he won't go anywhere. He keeps her on a fairly tight leash financially, and she doesn't get on with his family. Her strong sense of duty and a desire to conform for the sake of peace in the house have placed her under a great deal of stress, and she has had a series of nervous breakdowns as a result. With the support of her doctor and her sons, she has found an outlet in keeping diaries for the Mass Observation Project. (The Project was set up in the late thirties, and was a queer mixture of artistic documentary, propaganda and morale monitor, and voyeurism. People of all walks of life were encouraged to send in regular diaries, and answer questionnaires on all sorts of subjects, including recreation habits and sexual behaviour. Some of the archive material has been published in book format, including a selection from Nella. The archive is also used for research, by students, academics, journalists etc.). Because she's writing for the Project and not for a person, Nella is able to write freely and confidentially, in a way you never could in a letter or blog.The war frees Nella in a way she'd never thought possible. She'd been involved with various groups and charity work before, but had always had to give it up either because of her health or because it just caused too much trouble at home. Now she can volunteer for the WVS, which supports hospitals, provides canteens for forces personnel, and mobile canteens for emergencies such as large air raids. With her sons now away from home, she has a chance to re-evaluate her relationship with her husband - a telling aspect of her diaries is that she never calls him by his first name. The diaries are spattered with recipes and hints on managing a neat and tidy home, thoughts on sex and pregnancy before marriage and the effect on young lives of the disruption of war, the social changes which will follow the war, and some very decided views on the role of women and their work in the home, and how that should be recognised by the state. She's very progressive about the ideas people are putting forward for the formation of a welfare state, and deeply critical of what she sees as government mismanagement of people and resources in wartime.Yet at the same time I got the feeling I wouldn't have liked her very much. She can be very sharp-tongued and selfish in small things, her habits of domestic economy have made her miserly and prone to criticise others, and she doesn't suffer fools or snobs gladly. Although she has a spiritual side, it finds outlet in nature (she loves her trips to the lakes and the sea), and she has a dislike of organised religion and is not tolerant of people who find comfort in it. She's quite vain about some of her skills. Despite her own mental health history, she has no time or sympathy for people who she sees as knuckling under - although she's always got a soft spot for mothers who have lost children.The diaries are also fascinating because you know the wider story - the timetable of the war, the fact that there wasn't an invasion. Yet you don't know the smaller things - the history of Barrow itself, what will happen to her house and family. You might know the formal history of rationing, and even some stories about how people got round it, what happened to towns where the economy was booming yet some families were suffering terrible financial hardships. But to read the day-to-day grind, and to hear her tell the stories of her friends and colleagues, brings it completely alive. Some of it is heart-breaking.There are other books based on material submitted to the Project, and it is still going on - although the format has changed. Now observers are asked to respond to three "directives" a year, asking their views on all sorts of current events, ideas, political and social theories. I did go and have a look at joining, but they have a limited membership and are currently only recruiting "male writers aged 16-44 living in all regions of the UK except the South East and South West. We do accept applications from people who meet two of the three criteria (for example, we would accept female writers aged between 16-44 living in the North)". What I am considering doing is becoming a Friend of the Project, as it is now run by the University of Sussex and is dependent on things like lottery funding.If Nella's diaries are a harbinger of the books I'm likely to stumble across in 2007, I'm looking at a very good year.
Review by etxgardener
16/06/2015
One of Britain's great gift to social historians was Mass Observation, a groupof approximately 500 volunteers who kept diaries of their daily experiences from 1937 through the early 1960's. The collection of these remarkable writings now reside at the University of Sussex in Britain where they are available to researchers, teachers and any other interested individuals.In this book, we read the diary of Nella last, who is also known as "Housewife 49" denoting her age when she began writing in 1939. Her impressions of life in northern England during World War II are a fascinating look at a people carrying on despite bombing raids, rationing and extreme shortages of food and fuel, and exhaustion as the war ground on and on.Her growth as a person from a mousey litle housewife to a well-organized WVS volunteer running both a canteen and a retail store is remarkable and, just perhaps, representative of many other women's experiences duing that time.There is a sequel that chronicles Nella's life during the years of post-war austerity. I cannot wait to read it.
Review by curlycurrie
16/06/2015
I watched Victoria Wood's adaptation of this on tv which inspired me to read it. I found the book different to the tv adaption but this was no bad thing. The real Nella Last was a deep character and her writing about her experiences of war and of how that affected people's characteristics was wonderful. I was there and felt Nella's concerns regarding her sons, their friends and her everyday worries regarding keeping house on rations and coping with the damage to her home caused by the bombing of Morecambe.
Review by Oreillynsf
16/06/2015
The British Mass Observation Project was an early form of social history that asked ordinary Britons to keep and submit diaries about their daily lives and experiences. Nella Last was their most prolific writer, and her diary of the Second World War is an amazing read and a profoundly personal perspective on the Homefront. Her daily experiences are fascinating, but even more interesting is to track her gradual increase in self esteem as a result of "being useful" in the WVA and other volunteer organizations. Nella, like so many British women, found wells of inner strength she didn't know she had as she worked to provide aid and comfort to soldiers as well as people who had suffered wartime tragedies. And this burgeoning self esteem gradually changes her family relationships as well. Especially with her husband, who, it seems, was surprised and none to pleased with the changes in his wife.It's a wonderful story, and Nella is a gifted writer who deserves so much praise for her willingness to be honest about her feelings and emotions. Like all people, her thoughts sometimes veer toward areas that don't put her in the greatest light. But tell her story she does, and as a result we get an incredible look into the life and thoughts of a clearly incredible "ordinary" woman.
Review by Kasthu
16/06/2015
Nella Last's War is a compilation of diary entries that Nella Last, a middle-aged housewife, write for the Mass Observation Project during WWII. In her diary, which she later continued on after the war and into the 1950s, Nella chronicles her everyday life, living in Barrow-in-Furness. The diary starts in September 1939 and continues through VE Day.Although Nella meticulously describes the minutiae of her every day life, her story never gets boring. I think one of the hallmarks of good writing in personal nonfiction (diaries, letters, memoirs, etc.) is finding one's voice, and Nella certainly did in her diary. She's an optimistic woman and very, very sweet—although slightly neurotic. She takes pleasure in the small things, even with shortages of food and everything else. One thing that comes across abundantly in Nella's personality is her love for her family, especially her younger son Cliff—because you see him from her point of view, you almost end up falling in love with him, too.There are more diary entries from the beginning of the war, and I wish that the editor of this collection had included more from 1943, '44, and '45. However, I did like the fact that there are little historical notes scattered here and there so that the reader who might not know much about WWII can keep up with whatever Nella mentions in her diary. There are also photos included of Nella and her family from the war years. In all, this is an excellent first-hand account of one housewife's experiences living through WWII.