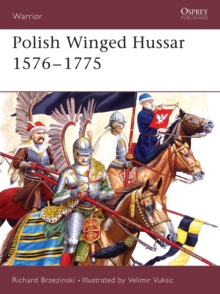 Polish Winged Hussar 1556-1775
Paperback
Part of the Warrior series
Description
This book examines the origins and development of the Polish Winged Hussars.
Using many years' painstaking research drawn from unpublished Polish sources, the author provides a rounded view of the training, tactics, appearance and experiences of these legendary and fascinating warriors.
The most dramatic of all Hussar characteristics were the wings worn on the back or on the saddle, although not all Hussars wore them, and their purpose has been fiercely debated.
The Hussars terrified the Turks, Tatars, Muscovite boyars, Ukrainian Cossacks and Swedes, who did everything to avoid facing them directly in battle.
Information
Format: Paperback
Pages: 60 pages, 55ill.8col.ill.
Publisher: Bloomsbury Publishing PLC
Publication Date: 29/04/2005
Category: Land forces & warfare
ISBN: 9781841766508
Free Home Delivery
on all orders
Pick up orders
from local bookshops
Reviews
Showing 1 - 1 of 1 reviews.
Review by Condottiere
16/06/2015
A long time coming, but well worth the wait. The former consultant of With Fire & Sword (1998), here expands on his previous publications and dispels the myths surrounding the Commonwealth's Winged Hussars and their demise. The RECRUITMENT AND ORGANIZATION section follows a brief introduction with an etymology of hussar, from the Byzantine chosarioi/chonsarioi. Adequately covered is a simple hierarchy and organization of feudal French origins, with insight into the social stratification of Polish nobility and means of remuneration. Comprehensive sections on equipment and accouterments with tidbits of information such as a cottage industry in armor manufacture/modification and faux leopard skin capes. The reference to "western armour" deserves some elaboration, though beyond the scope of the book, if only to cover the transitional phase. Of interest is the section on wings: their introduction, evolution and usage. In sixteen pages the author details the hussar's role on campaign (5) and battle (11): in matters of life, training, sieges and battlefield formations - the evolution of the huf – and the engagement's aftermath. The EXPERIENCE OF BATTLE focuses on the fluid nature of cavalry warfare, and a section dismissing the notion of kopia's superiority over the pike. A point of disagreement is over the discounting of the lance's value against plate armor, though not with the kopia, it being fragile on account of its hollowness. The importance of status is clearly shown, whether land-owning rotmistrz or towarzysze of varying wealth, inflexible other than on the battlefield, while the daily campaigning was up to the dogsbody pacholiks and servants. Numerous illustrations and photographs, with a few recycled from Polish Armies 1569-1696, nicely complement the book. Vuksic's plates while accurate, with no disproportionate bodies or garish colors, are of posed figures. It lacks a certain degree of vitality as was exhibited in those of McBride's in Brzezinki's previous two books. There is too much space in some of the plates: 2B's images could have been shrunk without detail loss and 2 pictures transferred to 2A, with the addition of another reconstruction.