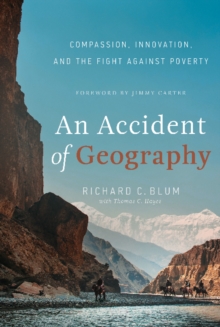 An Accident of Geography : Compassion, Innovation and the Fight Against Poverty
Hardback
Description
Advances in global development have helped lift hundreds of millions of people from poverty in recent decades, but major challenges in fighting poverty remain.
Billions of people continue to have little or no access to the basic necessities of life: clean water, food, shelter, education, and medical care.
The random location of their birthplace limited much of what is possible in many of their lives.
Yet legions of dedicated people today are proving that with the right approaches and resources, disciplined efforts to fight poverty can succeed-and with greater scale and impact than ever.
In An Accident of Geography , author Richard C. Blum profiles many of them while narrating his inspiring personal story-accomplished private-equity investor especially in Asia, humanitarian, public policy advocate, and creator of an unprecedented, multidisciplinary curriculum in poverty and development studies that has attracted thousands of students on the ten campuses of the University of California and beyond.
Blum offers practical guidance on what works best: giving poor people a greater voice in the field and applying key principles of 21st-century management, engineering, and development philanthropy.
Put your accident of geography to work in helping others, and yourself Be the change maker you see in the mirror. ?All author proceeds from the sale of An Accident of Geography will be donated to projects advancing global development.
Information
Format: Hardback
Pages: 368 pages
Publisher: Greenleaf Book Group LLC
Publication Date: 01/01/2016
Category: Poverty & unemployment
ISBN: 9781626343344