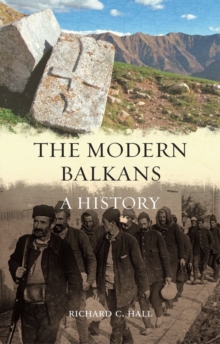 The Modern Balkans : A History
Hardback
Description
For much of its history, southeast Europe remained apart politically, culturally and economically from the rest of the European continent.
Byzantine and then Ottoman rule isolated this region from Western Europe.
Beginning in the nineteenth century, this region, also known as the Balkans, began the process of integration with Western Europe.
In The Modern Balkans, Richard C. Hall gives a complete account of the historical events that have made the Balkans what they are today.
The process in which the Balkans began their involvement with Western Europe was often violent and destructive.
Rebellions and wars occurred throughout the nineteenth century and the first half of the twentieth as the peoples of southeast Europe sought to develop on the Western European model.
Often these wars were counterproductive, causing much loss of life and material.
Soviet power in the region imposed a 45-year peace, but its collapse saw renewed conflict lasting up to the end of the century.
Only at the beginning of the twenty-first century has southeast Europe achieved integration into Europe. This book is a clear and concise history of the Balkan Peninsula in the nineteenth and twentieth centuries through to the turn of the twenty-first century.
It concentrates on political and economic events, especially the development of national states, the two World Wars in the Balkans and the collapse of Yugoslavia.
The Modern Balkans will appeal to anyone interested in European history, specialists and non-specialists alike.
Information
Format: Hardback
Pages: 304 pages
Publisher: Reaktion Books
Publication Date: 01/02/2011
Category: European history
ISBN: 9781861898104
Free Home Delivery
on all orders
Pick up orders
from local bookshops