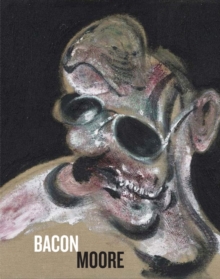 Bacon Moore: Flesh and Bone
Hardback
Description
In their different mediums, Henry Moore (1898-1986) and Francis Bacon (1909-1992) created unforgettable images of the human figure.
The distinctive visual languages that each artist developed over more than half a century were marked by a growing simplicity and monumentality of form.
Their perspective differed: Moore clung to a belief in humanism, while Bacon espoused a post-humanist, nihilistic view of the world.
In expressing their visions of humanity, the two artists had very different approaches: Bacon working from the outside in, disintegrating and dissolving form; Moore from the inside out, pushing anatomical structure to the surface.
If Bacon's images suggest flux, chance, and the arbitrariness of existence, Moore's sculptures have been interpreted as universal symbols of strength and endurance.
Bacon and Moore first exhibited together in a group exhibition at the Lefevre Gallery in London in which Bacon showed his Three Studies for Figures, at the Base of a Crucifixion (1944), propelling him into the limelight for the first time. Moore showed two sculptures from the 1930s and fourteen wartime drawings, some of which anticipate the theme (though not the savage imagery) of Bacon's triptych.
Exhibiting together in a commercial gallery was repeated twice in the 1960s, when Moore and Bacon were both represented by Marlborough Fine Art.
These joint shows, extensively reviewed in the press, gave critics a chance to compare the artists' radical approaches to the human figure, which were seen as complementary rather than conflicting.
Fifty years later, this publication once again brings their work into direct comparison.
Information
Format: Hardback
Pages: 200 pages, 140 Colour
Publisher: ACC Art Books
Publication Date: 25/09/2013
ISBN: 9781851497478