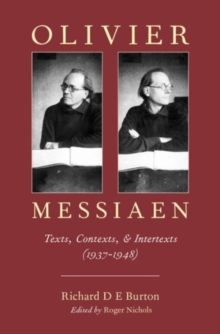 Olivier Messiaen : Texts, Contexts, and Intertexts (1937-1948)
Hardback
Description
The 20th century French composer Olivier Messiaen was a devout Roman Catholic and notably claimed that his music was an expression of his faith.
Unsurprisingly, many performers and listeners consider Messiaen's strong religiosity central to their appreciation of the composer's music.
Music scholars have devoted much energy to exploring how Messiaen's music was an extension of his religious beliefs.
Yet, these works tend to discuss Messiaen's Catholicism solely interms of personal religious identity and ignore the composer's broader connections to the cultural landscape of Roman Catholicism in France. In Olivier Messiaen: Texts, Contexts, and Intertexts (1937-1948) the late French literature scholar Richard Burton examines nine of Messiaen's works in the context of the broader French Catholic intellectual tradition.
Drawing on an expansive knowledge of the Catholic literature and the surrealist tradition, Burton reveals that Messiaen's middle-period compositions are filled with intertextual references to the Bible and other theological writings, which Messiaen, given his reputation forfalsifying facts, may have gone to great lengths to obscure. As a Catholic, Messiaen is presented as somewhat removed from the ethos of his time and place, taking no part in the social side of Catholicism that found expression in the Petainist litany of 'Patrie, Famille, Travail'.
Rather, Messiaenregarded himself as having a 'vertical' relationship with God, which could make him seem unworldly and even uncaring.
With insights into the artistic careers of Messiaen's notable contemporaries and historical perspectives on the breakdown of French politics during World War II, Burton creates a vivid picture of the previously unexamined spiritual and philosophical inspirations behind Messiaen's pivotal mid-century compositions.
Information
Format: Hardback
Pages: 264 pages
Publisher: Oxford University Press Inc
Publication Date: 10/11/2016
ISBN: 9780190277949
Free Home Delivery
on all orders
Pick up orders
from local bookshops