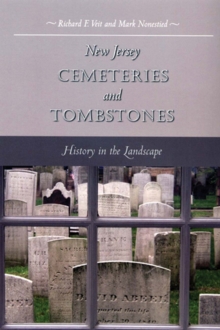 New Jersey Cemeteries and Tombstones : History in the Landscape
Paperback / softback
Description
In this sweeping tour of New Jersey's burial sites from the seventeenth century through the dawn of the twenty-first, readers will discover how headstones are much more than place markers for the deceased.
From the earliest memorials that were once used by Native Americans, to some of the elaborate structures of the present day, historians Richard F.
Veit and Mark Nonestied use grave markers to tell an off-beat account of New Jersey's history that is both fascinating and unique.In detailed descriptions, the authors explain what cemeteries and their gravemarkers say about different individuals and the communities in which they lived.
Images that decorate seventeenth-century headstones, such as skulls, hourglasses, and crossed bones, speak to the brevity of life in the colonial world.
Eighteenth-century cemeteries reflect the distinctive cultures that sprang up in the state at that time, ranging from the unadorned marble markers used by Quakers, to rich brown sandstone used by settlers in the central and northern regions of New Jersey.
By the Victorian era, markers were transformed into elaborate monuments and mausoleums as New Jerseyans honored their dead relatives with a cavalcade of obelisks, pillars, ornate statuary, and sculpture.Today's tombstones continue to mirror New Jersey society.
A life-sized Mercedes Benz headstone in a Linden cemetery, for example, reflects the materialism of the new millennium.
Also considered are modern-day novelties such as pet cemeteries and what they mean for modern culture.Having visited more than 900 state burial grounds, and interviewed dozens of owners of monument companies, this richly illustrated book is essential reading for history buffs and indeed anyone who has ever wandered inquisitively through his or her local cemeteries.
Information
Format: Paperback / softback
Pages: 336 pages, 121 b&w illustrations
Publisher: Rutgers University Press
Publication Date: 15/11/2008
Category: Local history
ISBN: 9780813542362
Free Home Delivery
on all orders
Pick up orders
from local bookshops