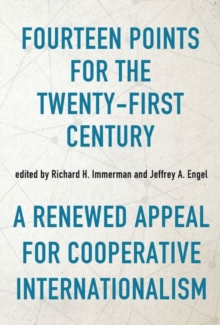 Fourteen Points for the Twenty-First Century : A Renewed Appeal for Cooperative Internationalism
Hardback
Description
When the United States entered World War I, President Woodrow Wilsondeclared to Congress that the objective was not merely to bring "a new balanceof power," but rather to bring a "just and secure peace" to the world.
In thisfamous speech, known as "The Fourteen Points," Wilson offered a road maptoward a more equitable international system in the midst of global conflict,including ideas on the interconnectedness of democracy, trade, and the conceptof a forum for resolving international disputes.
Decades after World War I,Wilson's ideas continued to influence many of his successors.
But now, there areforces in the world that Wilson could never have imagined, and those forces callfor a new plan toward peace. In Fourteen Points for the Twenty-First Century, Richard H.
Immerman andJeffrey A. Engel bring together a diverse group of thinkers who take up Wilson'scall for a new world order by exploring fourteen new directions for the twentyfirstcentury.
The contributors-scholars, policymakers, entrepreneurs, poets,doctors, and scientists-propose solutions to challenges such as migration,global warming, health care, and privacy in the digital age.
These pointschallenge American leaders and policymakers to lead an international effort,not to make America great again, but to work cooperatively with other nationson the basis of mutual respect.
Information
Format: Hardback
Pages: 352 pages, 3 figures, 1 table
Publisher: The University Press of Kentucky
Publication Date: 23/06/2020
Category: Diplomacy
ISBN: 9780813179001