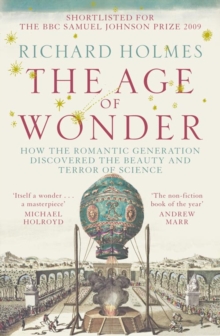 The Age of Wonder : How the Romantic Generation Discovered the Beauty and Terror of Science
Paperback
Description
Shortlisted for the Samuel Johnson Prize and winner of the Royal Society Prize for Science Books, Richard Holmes's dazzling portrait of the age of great scientific discovery is a groundbreaking achievement.The book opens with Joseph Banks, botanist on Captain Cook's first Endeavour voyage, who stepped onto a Tahitian beach in 1769 fully expecting to have located Paradise.
Back in Britain, the same Romantic revolution that had inspired Banks was spurring other great thinkers on to their own voyages of artistic and scientific discovery - astronomical, chemical, poetical, philosophical - that together made up the `age of wonder'.In this breathtaking group biography, Richard Holmes tells the stories of the period's celebrated innovators and their great scientific discoveries: from telescopic sight to the miner's lamp, and from the first balloon flight to African exploration.
Information
Format: Paperback
Pages: 380 pages
Publisher: HarperCollins Publishers
Publication Date: 03/09/2009
ISBN: 9780007149537
Other Formats
Paperback from £11.79
EPUB from £1.99
eAudiobook MP3 from £26.84
Free Home Delivery
on all orders
Pick up orders
from local bookshops
Reviews
Showing 1 - 5 of 5 reviews.
Review by rightantler
16/06/2015
A wonderful time capsule of scientific and cultural history. The main characters of Joseph Banks, William Herschel and Humphrey Davy are surrounded by an amazing cast including Coleridge, Keats, Shelley and many many more. When I was at School I studied History from 1760 - 1914 centered on the Agrarian and Industrial Revolution with a focus on Politics. How much different would my future study and career choices have been had I read of Banks in Tahiti, Herschel discovering the night sky and Davy lighting the world below ground? The Age of Wonder is a very well titled read covering a the period before Charles Darwin, Faraday and John Herschel would be most prominent. If I were teaching the history of the period this would be mandatory reading!
Review by psiloiordinary
16/06/2015
A brilliant little book that never quite bites off more than it can chew. The development of science as told as mini biographies of a series of great explorers and experimenters.There is lots you don't know about these folks that you will be glad you find out. Joseph Banks and the impact on societal morals not just the biological sciences. Herschel's family background and driven nature. Mad balloonists, drug taking Davy and the battle of wills over the lamp.Easy to read and well deserving of the various awards it won.Put it in your wish list.
Review by mnicol
16/06/2015
Stunning. John Herschel has a battered memorial at the Grove Primary School in Claremont, Cape Town. "The Grove" was the name of the 'rather dilapidated country house', three miles north of Windsor to which his father (Sir William, the discoverer of Uranus) moved in 1786 and where he built his forty-foot telescope. Herschel entertained Darwin in Cape Town where he docked with the Beagle on his return voyage to England. Darwin did not like the Cape and, it seems, the Herschel's (who collected 'rare Cape bulbs' and had "rare and beautiful flowering plants" surrounding their dwelling "near the Table Mountain") never told him about fynbos.
Review by mbmackay
16/06/2015
This very good book describes science and leading scientists in the UK in the romantic era (roughly 1770 to 1830) with a not entirely successful attempt to highlight the links between the literary and scientific worlds. The scientific part of the book has similarities to Lisa Jardine's Ingenious Pursuits telling of 17th century science in England. The slightly clunky attempt to bring the science and literary worlds together is saved by the author's extensive knowledge of both worlds and his generous approach to the foibles of the people and the times, and his eye for humour.Read April 2013.
Review by LynnB
27/01/2016
This book looks at science in an age when science was closely linked with popular culture. Scientists were considered philosophers and expected to be competent in several fields. Science didn't take place in isolation, but was closely woven into literature, poetry and art. The book showed what science gave to art; I wish it had also considered what the artists gave to the scientists.The book made me reflect on the links between science and culture today. Today, it's all about specialization. And our science/culture links have become more "specialized", too, with science fiction and distopian futures providing the vast majority of those links. Have we moved out of the age of wonder?Today's major advancements aren't as visible as hot air balloons overhead, or new bodies in the heavens. Today, we are looking at DNA and tiny, tiny neutrinos which are studied deep underground. Our discoveries are just as wondrous, but less likely to inspire a sonnet. I liked this book which reminded me of the importance of wonder; of romance as wonder, and of the power of hope.