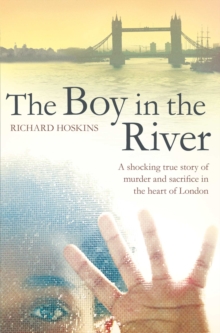 The Boy in the River : A Shocking True Story of Ritual Murder and Sacrifice in the Heart of London
Paperback
Description
On 21st September 2001 the mutilated torso of a small child was found floating beside London's Tower Bridge, one tide away from being swept into the North Sea.
Unable to identify the victim, the Murder Squad turned to Richard Hoskins, a young professor of theology with a profound understanding of African tribal religion, whose own past was scarred by a heartbreaking tragedy.
Thus began a journey into the tangled undergrowth of one of the most notorious murder cases of recent years; a journey which would reveal not only the identity of the boy they called Adam but the horrific truth that a succession of innocent children have been ritually sacrificed in our capital city.
Insightful and grippingly written, The Boy in the River is an inside account of a series of extraordinary criminal investigations and a compelling personal quest into the dark heart of humanity.
Information
Format: Paperback
Pages: 352 pages
Publisher: Pan Macmillan
Publication Date: 01/06/2012
Category: True crime
ISBN: 9781447207900
Free Home Delivery
on all orders
Pick up orders
from local bookshops
Reviews
Showing 1 - 1 of 1 reviews.
Review by DubaiReader
16/06/2015
Both fascinating and horrifying.As a result of his expertise in African religions and ritualistic sacrifices, Richard Hoskins has been called to testify in a number of cases of murder and abuse in British courts. The torso of a young African boy, found in the Thames in 2002, was the first indication that these horrific practices were taking place in London. The child had been drained of blood and cut in a precise manner, suggestive of sacrifice. More cases have come to light in subsequent years, indicating that this is a serious problem, not only in Britain, but throughout the world.Richard Hoskins originally went to live in The Congo as a young man. His twin daughters were born there and one died very young. When the second daughter started to become sick, it was suggested that he should sacrifice a chicken or goat to save her from the call of her twin, from beyond the grave. Sadly the second daughter died too, but this event resulted in Mr Hoskins becoming aware of the practice of sacrifice. Also known as kindoki, this has subsequently developed into a much more extreme version and it is no longer just chickens or goats that are sacrificed. Extremist African churches are starving, beating and abusing young children who have been accused of witchcraft. Sometimes this may be because of some behaviour of the child, sometimes because a relative becomes sick and the child is blamed. Either way the accusations and their solutions are beyond belief.In his book, Richard Hoskins describes those early years in The Congo. He explains how the boy's torso was discovered and the phorensic work that followed it. He takes us through several court cases and other instances where these extreme religious views have resulted in the suffering of innocents. Although it is very well written, it is not an easy book to read. However, these practices are now no longer hidden in the dark; as detectives become aware that these things occur, so other children can be saved from following in their footsteps.An eyeopening book, highly recommended.