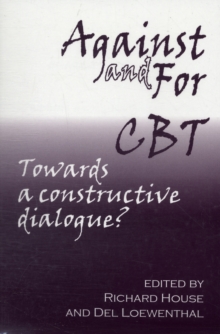 Against and for CBT : Towards a Constructive Dialogue?
Paperback
Description
This book offers both a wide range of critical perspectives from around the world, and substantial responses to them.
It represents the first attempt to engage in print with the controversies and complexities that have exercised - sometimes painfully - the therapy and counseling world, as cognitive-behavioral therapy (CBT) has risen to such cultural prominence as Western governments take a serious interest in the psychological therapies as instruments of public policy-making."Against and For CBT" will be essential reading for psychotherapists, psychoanalysts and counselors of each and every approach who are concerned with understanding the phenomenon that is 'CBT and its discontents'.
It will be core reading both on IAPT/CBT and contrasting modality training courses that wish to encourage critical engagement with the meaning and cultural context of therapeutic help in the modern world.Professor Andrew Samuels writes: 'This welcome new collection - provides us with many cogent and convincing arguments for, at the very least, questioning the epistemological underpinnings and the methodological validity of the 'evidence-based' ideology in which CBT and its supporters have become accustomed to basking - This splendid new book - promises to open up a crucial and long-overdue dialogue, and introduce the associated 'battle for the soul' of therapy work itself'. Professor Stephen Palmer writes: 'CBT is constantly developing , aquiring and integrating new ideas, many underpinned by research, and adapting to the requirements of the day.
Unlike some approaches, it is not moribund, nor held back by dogma.
Its commonsense, pragmatic approach will continue to have wide appeal, regardless of how it is viewed within the counseling and psychotherapy professions.
Information
Format: Paperback
Pages: 313 pages
Publisher: PCCS Books
Publication Date: 08/11/2008
Category: Counselling & advice services
ISBN: 9781906254100
Free Home Delivery
on all orders
Pick up orders
from local bookshops