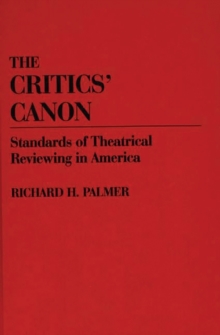 The Critics' Canon : Standards of Theatrical Reviewing in America
Hardback
Description
Palmer clearly states that his purpose is to explain 1the ways of critics to theatre practitioners, the ways of theatre to inexperienced reviewers, and the dynamic convergence of theatre and critic to anyone interested in theatre.' . . . The work is a well-written `primer' for writers and it will be useful primarily to performers who object to unfavorable `criticsm' without understanding the nature and purpose of reviewing.
Accessible to general readers and undergraduates. ChoicePalmer begins with an examination of the theatrical review as a medium for informing and entertaining theatregoers, documenting events of artistic of community importance, and supporting theatre through critical evaluation and publicity.
He next comments on how journalistic pressures affect reviewers.
Citing brief examples from hundreds of reviews, the author devotes a chapter to each of the elements that needs to be covered in a review, including performers, script, direction, music, and choreography, together with stage and lighting design and other physical aspects of the production.
The final chapter develops criteria for assessing the strengths and weaknesses of a theatrical review, based on aesthetic standards, the cultural tastes of theatregoers, and the interests of the community.
Palmer's experience as both a theatre professional and a journalist gives him an intimate understanding of the antagonism that often develops between reviewers and those who feel themselves to be the target of irresponsible criticism.
His book provides a clear perspective on theatrical matters and guidelines that will help to improve standards of reviewing and create an appreciation of the essential relationship between the theatre and its critics.
Free Home Delivery
on all orders
Pick up orders
from local bookshops
Also by Richard Hudson Palmer